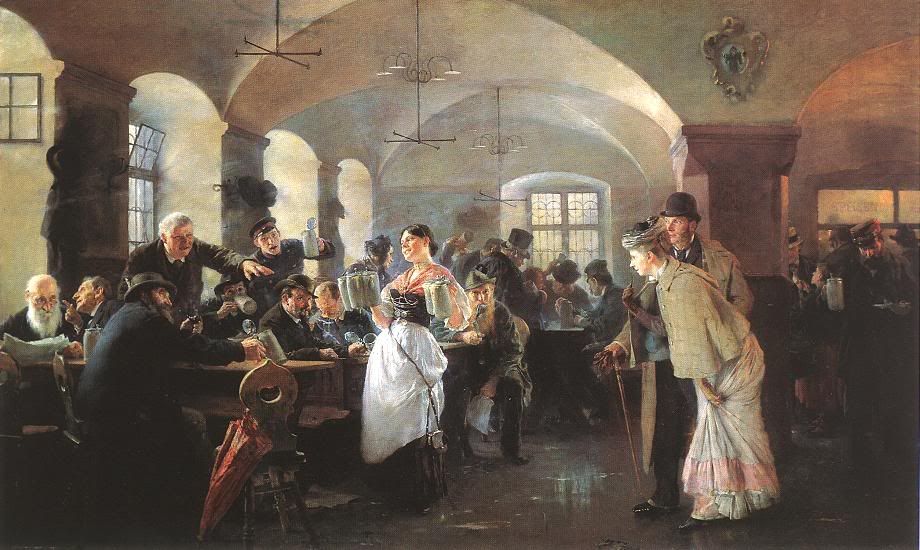 "Has any one painter ever before painted so many interesting and historical personages?" - asked Lord Selborne about portrait painter, Philip de László. 
Hungarian artist, Philip Alexius de László, born Laub Fülöp Elek on April 30, 1869, was one of the most prolific and successful portraitists of the 19th and 20th centuries.  Although not as widely known today as John Singer Sargent, it was actually de László who replaced Sargent as the painter of Society when Sargent retired from portraiture in 1907.  During his illustrious career, de László painted royalty and aristocracy from the kings and queens of Europe to the Pope, from world-renowned musicians to military heroes, from Indian chiefs to the President of the United States of America.
After studying art at the National Academy of Arts in Hungary, the Royal Bavarian Academy of Art in Munich, and finally the Académie Julian in Paris, de László received his first important portrait  commission in 1894 when the Royal Family of Bulgaria sat for him.  From there, he went on to paint Emperor Franz Joseph in 1899, followed by several members of the German Imperial Family in 1900.  His fame increasing, de László travelled to Rome in the spring of 1900 to paint Pope Leo XIII.  This commission, along with the subsequent Grand Gold Medal Award for this painting at the Paris International Exhibition, garnered for de László's world-wide acclaim.
In 1903, de László, with his wife, Lucy, left Budapest for Vienna, where they lived a few years before eventually settling in London in 1907.  De László's fortunate timing of arrival in England coincided with Sargent's announcement that he would no longer be painting portraits.  A show, containing fifty of de László's recently completed portraits announced his arrival in London, and the critics, though somewhat mixed in their reviews, brought attention to the artist and helped cement his reputation in England.  Those seeking portraits, and turned away by Sargent, quickly flocked to this new artist who came to Britain with all the proper credentials of a successful Society portraitist.  From the King downwards, the commissions quickly poured in.
By the time of his death in 1937, Philip de László had achieved international fame as a portraitist.  He "held twenty-two orders and seventeen medals of merit bestowed upon him by royal and presidential sitters throughout the western world."1  The awards for which he was most proud, however, were when King Edward VII appointed him Member of the Royal Victorian Order in 1909, and when he was elected President of the Royal Society of Portrait Painters in 1930.  Despite this success and renown, de László was largely forgotten by the time World War II ended, and is nearly unknown today.
The de László Archive Trust
has recently been established by a descendant of the artist in order to return Philip Alexius de László to his rightful position of accolade.  Already, two great books on the artist have been put into print with the aid of the trust, and they have created a website which aims at gathering a catalogue raisonné of de László's work, and making it available as a research center about the artist's life.
In 1934, de László collaborated on a book explaining his painting technique.  His colors as listed in the book, are as follows:
Ultramarine Blue
Rose Doré
Rose Madder
Zinc White
Cadmium Yellow Pale
Cadmium Yellow Deep
Chrome Orange
Yellow Ochre
Burnt Sienna

I was able to find an old copy of the book,
Painting a Portrait
by Alfred Lys Baldry, through an online bookseller, but it is available for free at several sites on the web including the
World of Portrait Painting
, and at the
de László Archive
itself.  The book is rather simple in its presentation, but does have a hand-painted insert showing de László's colors, which is interesting.
The two recent books on de László were both published by Paul Holberton Publishing, London.  
de László in Holland
 is still available at PHP, but
A Brush With Grandeur
is out of print, and harder to locate.  Both are wonderful books.
If you visit The de László Archive Trust site, make sure to view the section presenting
Missing Paintings
.  The images are small, and are mostly black and white reproductions from magazines, but they show de László's control of value, and his ability to pose the model, particularly the female sitter.  It is so very sad that so many beautiful paintings like these may be lost to the world forever.
1  From the biography of Philip Alexius de László as presented by The de László Archive Trust website.