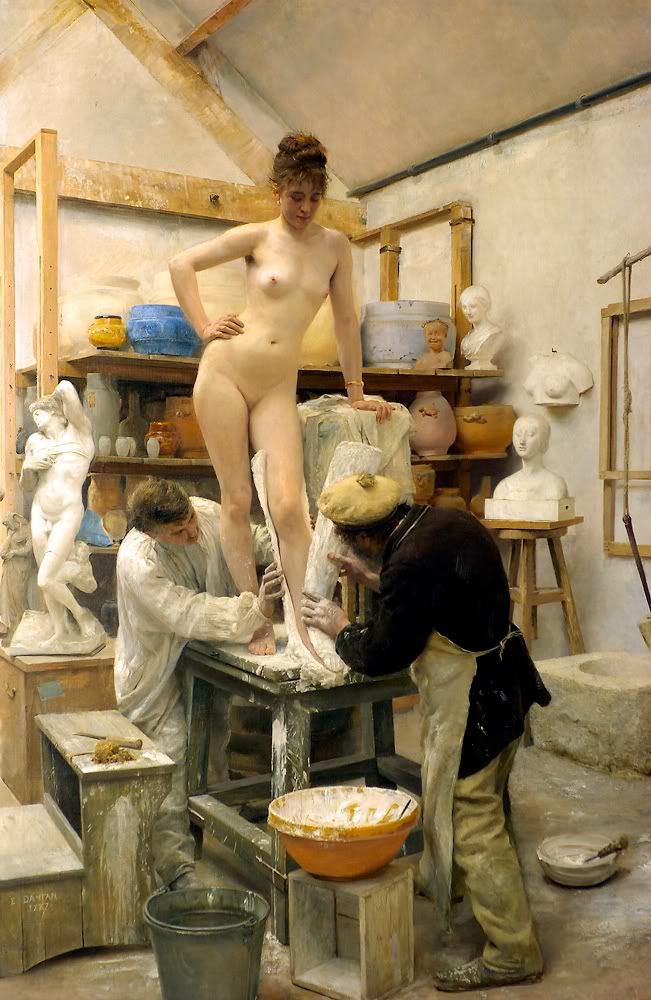 Édouard Joseph Dantan is another of those fantastic academically-trained artists of the nineteenth century who, unfortunately, has fallen into relative obscurity.  If it were not for another blogger who posted an image of
A Casting From Life
(1887), I'm not sure I would have ever learned of Dantan.  After seeing that particular painting, I decided to do some research on my own to see if I could locate more artwork by this talented Frenchman.  (I would like to credit the person who posted the image in their blog, but unfortunately, I can't remember who it was.  If you know, or are the person who posted the image, please let me know!).
On August 28, 1848, in Paris, France, Édouard Dantan was born into a well-respected artistic lineage.  Édouard's grandfather Antoine-Joseph-Laurent Dantan was a well-known sculptor in wood; his uncle, Jean-Pierre Dantan, was also a sculptor, known for his satirical caricatures in clay and bronze; and his father, Antoine-Laurent Dantan, was a famous sculptor in marble, winning the Prix de Rome in 1828.  Despite the strong influence of sculpture in his life (and which would always play a major role in his art), Édouard chose painting as his artistic outlet. 
Dantan's formal training began March 27, 1865, when he was accepted into the studio of Isadore Pils at the École des Beaux-Arts.  Édouard was only sixteen.  By 1867, his progress was so meteoric, he was already receiving government commissions, despite having not yet made his Salon debut, which he would do two years later with the classical piece, "Episode in the Destruction of Pompeii."  In October 1870, Dantan volunteered in the French army during the Franco-Prussian War (July 18, 1870 - May 10, 1871), temporarily suspending his training, but upon his return to the École, continued his study under Pils.  Dantan won his first two Salon medals in 1874 with the paintings "Hercule aux Pieds d'Omphale" and "Moine Scupltant un Christ en Bois," the latter of which introduced the theme of "the sculptor at work," which would win him much popularity throughout his career.  Upon the death of Pils in 1875, Dantan entered the atelier of the German-born artist, Henri Lehmann, with whom he remained until 1877, when he finally ended his long apprenticeship at the École. 
Although Dantan also exhibited portraits, landscapes, and still-lifes, it was his depictions of sculpture studios which brought him his most acclaim.  One such painting, "Coin d'Atelier," showing his father, Dantan the Elder, carving a bas-relief, won Dantan his third Salon medal in 1880 and was subsequently purchased by the State for the Luxembourg Museum.  Another, "Un Moulage sur Nature (A Casting from Life)" sold for 15,000 francs after its exhibit at the Salon of 1887, and spurred Dantan into making many copies for sale to both fellow Frenchman, and collectors abroad.  This theme, grown from his intimate knowledge of life in the sculptor's studio, was visited time and again by Dantan during his painting career, and it is probably his association with sculpting which ironically has allowed his paintings to survive with any fame to this day.
Tragically, Édouard Dantan's career was cut short on July 7, 1897, when one of the horses attached to his carriage bolted, throwing Dantan to the ground, killing him.  He was buried in Saint-Cloud on the thirteenth of that same month.
I am only familiar with one book on the artist,
Édouard Dantan 1848-1897:  Des ateliers 
parisiens aux marines normandes by Sophie de Juvigny
.  Published in 2002, it is still available, but was only released with text in French.  When you can find it in the United States, it is generally very expensive.  Sellers in France, including Amazon.fr and PriceMinister will not ship to the USA or England, so if you'd like to purchase the book, it might be easier to have it shipped to you via European friends or family.  Occasionally, it comes up for sale in Canada, which is where I purchased my copy.
(I apologize for any possible inaccuracies in this post, and I intend to edit the information as those errors become apparent.  Unfortunately, my French is very limited, so I can only glean so much information from de Juvigny's monograph on Dantan.   I was only able to find one, short biography in English online, and a copy of Dantan's obituary from the NY Times, but both are suspect, as I found information in the Dantan book contradicting the information presented in those sources, and I tend to side with the French art historian on this subject.)