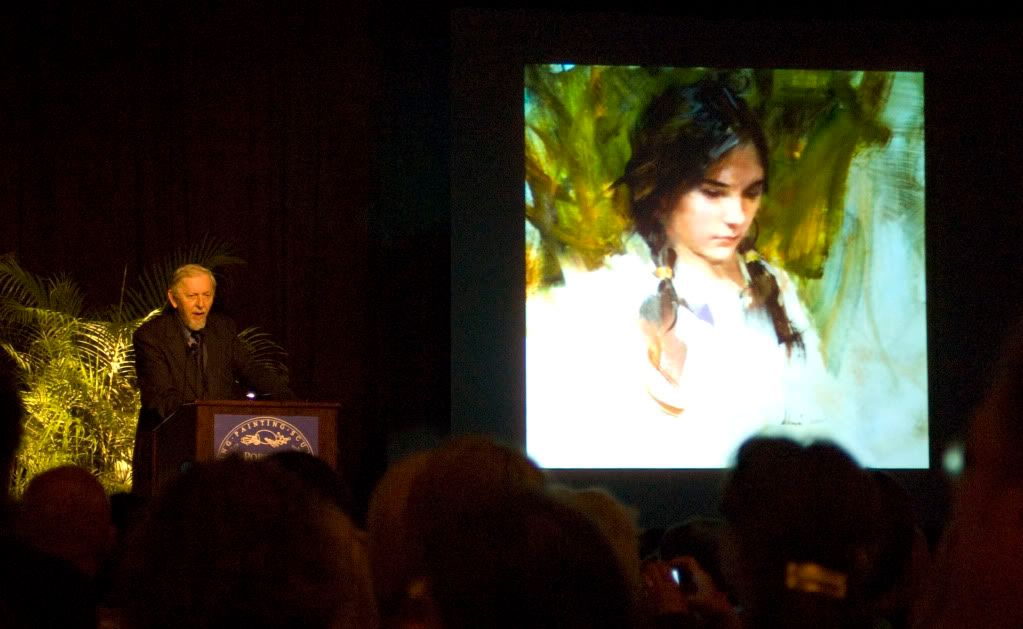 On the last day of the Portrait Society of America convention, Richard Schmid gave a little more information on his soon-to-be-published landscape book.  The book is 11"x14" and will be about 264 pages long.  Most pages will have a single painting filling the entire page, but others will contain multiple images showing various stages in the creation of the painting.  In total, there will be over 300 images!  It should be available this coming December.
According to Schmid, the book will "revolutionize the art world," and he may very well be right.  I often wonder who makes art books, and for whom the makers intend the publications, when I pick up the books and find horrible reproductions in collections which are already anemic in the quantity of images.  In the case of this book, Schmid has had a hand in the entire process of compiling the book, including self-publication, so it promises to be very good.
Alla Prima:  Everything I Know About Painting
 was Schmid's first self-published book by his own publishing house, Stove Prairie Press, LLC.  When Kristen Thies of West Wind Fine Art originally tried to find a publisher for Richard's 
Alla Prima
, she approached four of the major art-book publishers, three of whom rejected the book's proposal because its market was "too selective."  The final publisher returned the proposal unopened.  Schmid was forced to issue the book himself, if he wanted to see his 15 year project come to fruition.  Now in its eighth hardcover printing from Stove Prairie, and also available in paperback, it is clear that an art book of high caliber like
Alla Prima
has a significant audience.  
With more and more artists like Schmid controlling the presentation of their own art, we are likely to see the major publishers finally follow suit in order to compete.  
Vive la révolution!