Catalan painter, Ramon Casas i Carbó, was born into a family of means on January 4, 1866. His mother, Elisa Carbó i Ferrer, was from an affluent bourgeoisie family in Barcelona, and his father, Ramon Casas i Gatell, was a Torredembarran businessman who had made a fortune in Matanzas, Cuba. With the safety of his family's wealth behind him, strong artistic talent, and a learned business acumen, Ramon Casas i Carbó put his home of Catalan on the art world's map, and on the same stage as the art world's center, Paris.
From an early age, the young Ramon showed an aptitude for drawing, but evinced very little interest in his regular studies. By the age of twelve, he had quit school, and, with the encouragement of his father, had enrolled in the atelier of Joan Vicens (1820-1886), who operated what was considered the best studio in Barcelona at that time. For the next three years, Casas studied with Vicens, acquiring a solid foundation in technical painting skills.
The teen-aged Casas showed his first entrepreneurial skills when he co-founded the magazine L'Avenç in 1881. He was only fifteen at the time, but he soon realized how to capitalize off of his new position by making himself the magazine's French correspondent, allowing him to work and study simultaneously during his visits to Paris, which began later that same year.
While in Paris, Casas began his studies with Charles Auguste Émile Durand, better known as Carolus-Duran. Carolus-Duran headed one of the most successful ateliers in Paris, producing many students of talent, including the well-known American portraitist, John Singer Sargent. Though French by birth, Carolus-Duran was heavily influenced by Spanish art, particularly the work of Velázquez, making him a natural fit for the teen-aged Ramon, if on aesthetic preferences alone.
Autoretrato en Traje de Flamenco
By 1883, he had exhibited in Barcelona at the Sala Parés and in Paris at the Salon des Champs Elysée. At the later of these two salons, Ramon attended the opening at the Grand Palais dressed as a flamenco dancer, mirroring his self-portrait submission for that year. That painting, Autoretrato en Traje de Flamenco, won him an invitation to become a member of the salon of the Societé d'artistes Françaises at the young age of sixteen.
For the next eleven years Casas wintered in Paris, and summered in various cities in Spain, though most often this season was spent in Barcelona. During this time, he gathered a circle of fellow Spanish artists about him, many of whom he met while he continued his studies in France at the Acadmie Gervex, the school in which he enrolled after leaving the atelier of Carolus-Duran. Casas' art from this period became heavily influenced by the movements occurring in Paris, and his paintings began to show aspects of this including everything from the colors and atmosphere of plein air studies, to the Tonalist work of Whistler, from the graphic bold design of Henri de Toulouse-Lautrec to the Impressionist work of Edgar Degas.
Casas began to spend more of his time in Barcelona beginning in 1894, bringing home with him the concepts he garnered in Paris. As Casas and his friends, including painter and author Santiago Rusiñol, began to focus more of their energies in Spain, more and more artists began to identify Catalan as a new artistic center. This was a significant time period in the history of Catalan, as those living in this region sought a cultural revolution to revitalize their arts and ideas and prove that they were just as vital as the other European cultures. From this intellectual revolution came Catalan's singular interpretation of France's art nouveau movement, Modernisme, which showcased the art of Casas, and which reached its artistic zenith with Barcelona's famous architecture in the designs of Antonio Gaudi.
Inspired by Paris' Le Chat Noir, Casas, in 1897, financed Els Quatre Gats, a bar which acted as the center of Catalan's Modernist movement. The bar hosted regular salons and rotating art exhibits, including the first one-man show by an up-and-coming young artist by the name of Pablo Picasso. Els Quatre Gats even published its own arts and literature magazine, la revista Quatre Gats, though the gazette had limited success, and was later replaced by the more popular Modernist magazine, Pèl & Ploma, to which Casas was a regular contributor.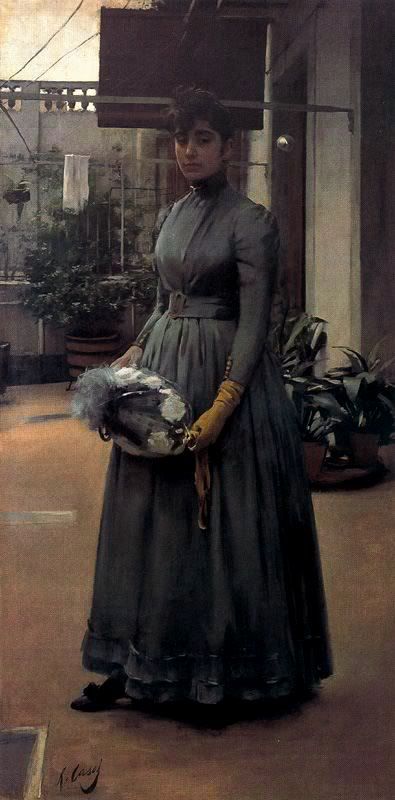 Over the next decade, Casas split his métier between his successful painting output, and his graphic designs for poster art. Though these career paths were stylistically divergent, Casas excelled in each genre, winning accolades and awards for both, in Spain, and abroad.
Barcelona 1902
After the first-place success of his painting Barcelona 1902 at the 1904 Exposición General de Madrid, Casas found himself in high demand by Madrid's elite. He spent 1904 and 1905 in Madrid, producing many charcoal sketches of the wealthy and powerful members of the city's high society, and befriending many of the area's most successful artists, including Joaquín Sorolla, Eliseo Meifrén, and Augustin Querol, Spain's official Government sculptor. It was also during this stay that Casas gained American millionaire Charles Deering as his patron, when Deering purchased Casas' equestrian portrait of King Alfonso XIII, which Casas had executed in Madrid in the studios of his new friend, Querol.
Sargentain 1906
(Portrait of Júlia Peraire, who, though 22 years Casas' junior, became his lover and favorite model. They eventually married in 1922, after overcoming Casas' family opposition.)
Charles Deering 1914
Over the next several years, Casas and Deering would spend much time traveling together throughout Spain, Europe, North America, and even Cuba. Through Deering, the artist gained access to many of the the United States' wealthy families, for whom he executed a dozen portraits, and over thirty charcoal drawings. The philanthropist Deering was so taken with the artwork of Casas and his circle, and Spain in general, that he began purchasing homes in the areas surrounding Barcelona which would become museums for the Catalan artists' work. In 1916, Deering went so far as to purchase Tamarit Castle just outside Tarragona in Catalunya, as a grand-scale restoration project with Casas as overseer.
Casas continued to show his work in solo shows, and in group exhibitions with his Catalan friends until his death in 1932, but by the 1920's, Ramon Casas i Carbó was no longer producing work with ties to the avant-garde movements of the day. In the end, Casas returned to the methods and techniques of his youth, producing work of a stronger academic influence than he had made when he was in his twenties. By the time of his passing at the age of sixty-six, though not quite forgotten, Casas had already been relegated to the past, as Spain looked to the future that Casas had made possible in his youth.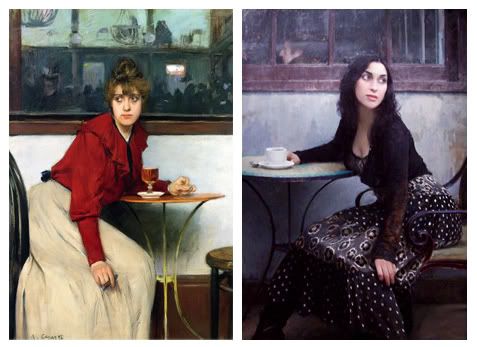 Jeremy Lipking's homage to Ramon Casas i Carbó