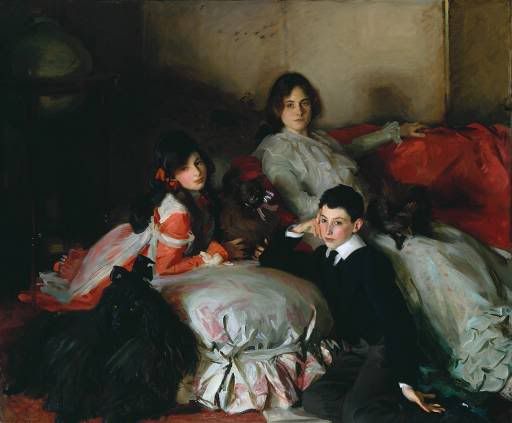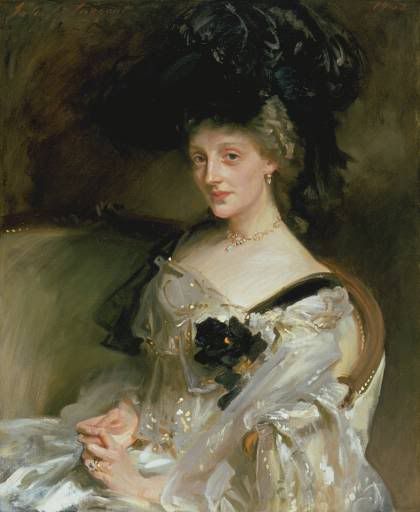 The following examination of the colors present in John Singer Sargent's paintings was conducted by the Conservation Department of the Tate Britain, London.
The information we do have has come from examination of his pictures and direct analysis of his paint. The same commonly available range of pigments is seen in virtually all of the Tate's later portraits and on existing palettes. The range is quite wide but does not include every pigment available at that time. He regularly used Mars yellow (a synthetic iron oxide) and cadmium yellow; viridian and emerald green, sometimes mixed; vermilion and Mars red, both alone and mixed; madder; synthetic ultramarine or cobalt blue; and ivory black, sienna, and Mars brown. The dark backgrounds of many portraits include a mixture of ivory black, Mars brown,and a generous quantity of paint medium: a combination that produces a color similar to the traditional Van Dyke brown. A pale shade of chrome yellow, cerulean blue, red lead, cadmium red, and cobalt violet were found on occasion, but not in every portrait examined. There is a more limited selection of blue and yellow pigments in the later portraits than in the earlier ones. This narrow range of blues, yellows, and greens in his palette went some way to create a color harmony and to fix a cool or a warm overall tone to each painting.


Sargent mixed lighter colors such as flesh tones by adding to lead white, vermilion, and a selection of other pigments including bone black, on occasion rose madder, and even green viridian. Mixing them together roughly on the palette, he then worked them into and onto adjacent brushstrokes on the canvas to give more subtle variations in tone.


(Jacqueline Ridge and Joyce Townsend; "How Sargent Made it Look Easy"; American Artist magazine; August, 1999, page 29)