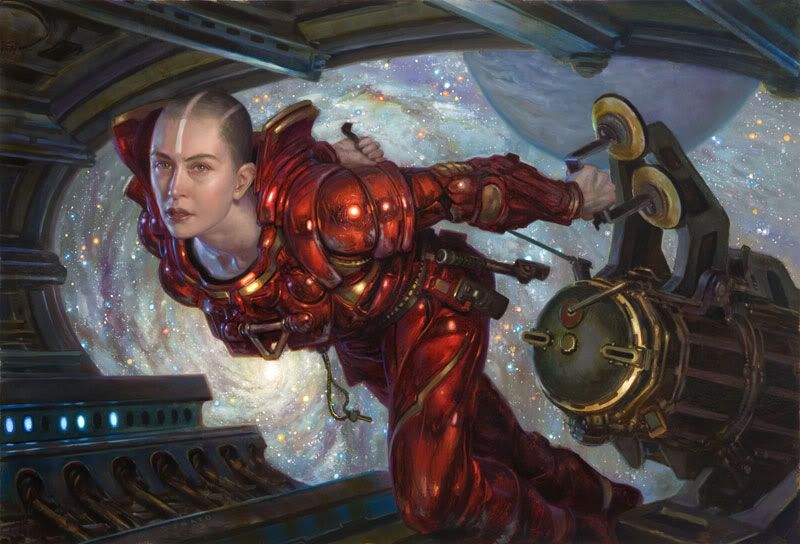 Massive Black Media has teamed up with multi award-winning illustrator
Donato Giancola
to create a five-hour long instructional DVD available now for purchase. The video follows Donato over three days in the studio as he creates the painting,
The Mechanic
, a piece specifically designed for this new tutorial. Donato's processes, from gathering photo reference through the final touches on the painting are covered, as well as are his thoughts on having a career in illustration.
Chapters on the DVD include:
1. Photo Reference
2. Preliminary Drawing
4. The Starfield
5. Background Architecture
8. Spacesuit Part 2
9. Career Insights
10. The Hands
11. The Tool Belt
12. Background Architecture 2
13. The Torpedo Tube
14. Final Touches
I have not seen the DVD myself yet, but the trailer looks great, and having known Donato now for more than 15 years*, I know the care and attention he puts into all of his works, including his teaching. I am sure it is great.
The tutorial is available as a download from the Massive Black
website
for $60.00, though there is a discount offer on the site's news page for 30% off all downloads (it looks like it should have expired before December 1st, but as it is still listed, it might be worth the try). You can also buy it from Donato's
website
as a hard copy for $60.00, and Donato will include an 8½" X 11" autographed print with each purchase.
* I am proud to say that Donato once modeled as a severed head for me, and that the two of us modeled together for another artist, with me as a Civil War soldier, and Donato as the hack, field surgeon sawing off my leg.