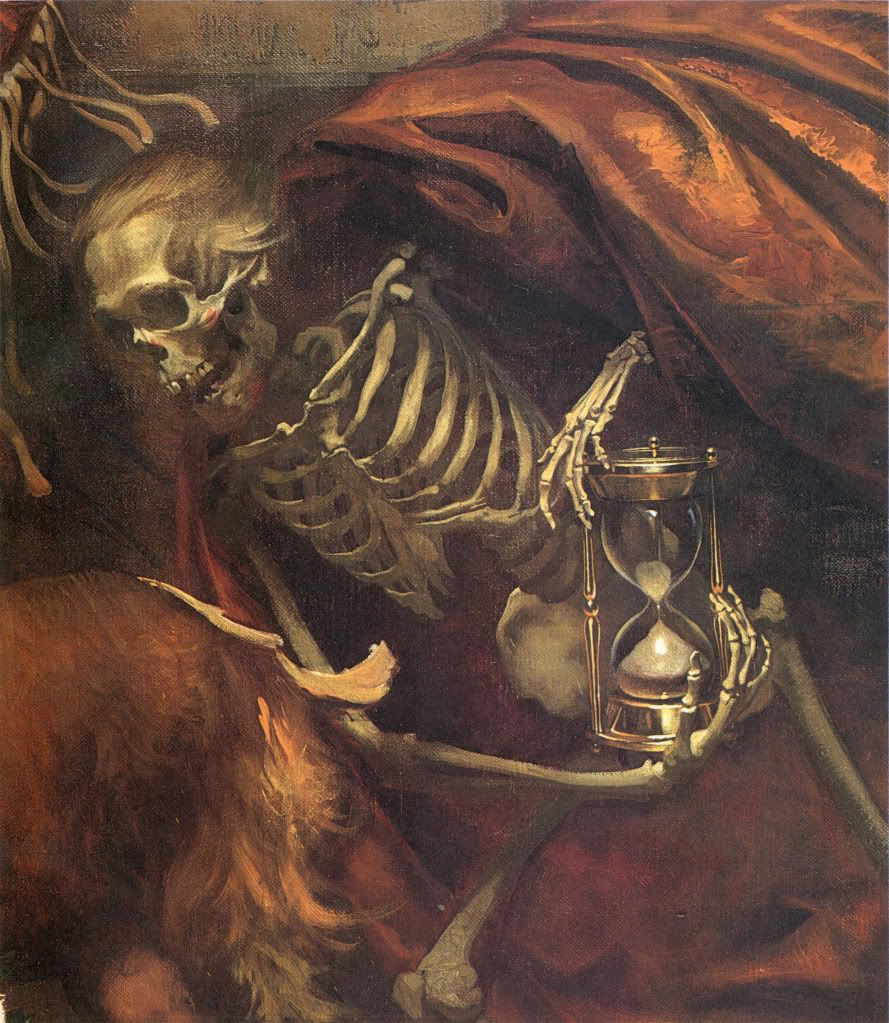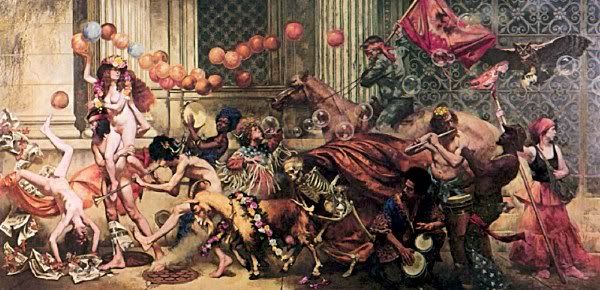 I first came across Harvey Dinnerstein's painting,
Parade
, in an issue of
Smithsonian
magazine back in the '80s. There was no article to accompany the image, just Dinnerstein's name, and the title of the piece. I assumed then that the painting was in the Smithsonian's collection, but as the painting was in the private collection of Dr. and Mrs. Mohammad Khavari as recently as the winter of 2008, I can only assume now that the magazine had included Dinnerstein's art solely as an example of important American work: it is doubtful to me that the Smithsonian would have deascensioned the piece had it ever been theirs.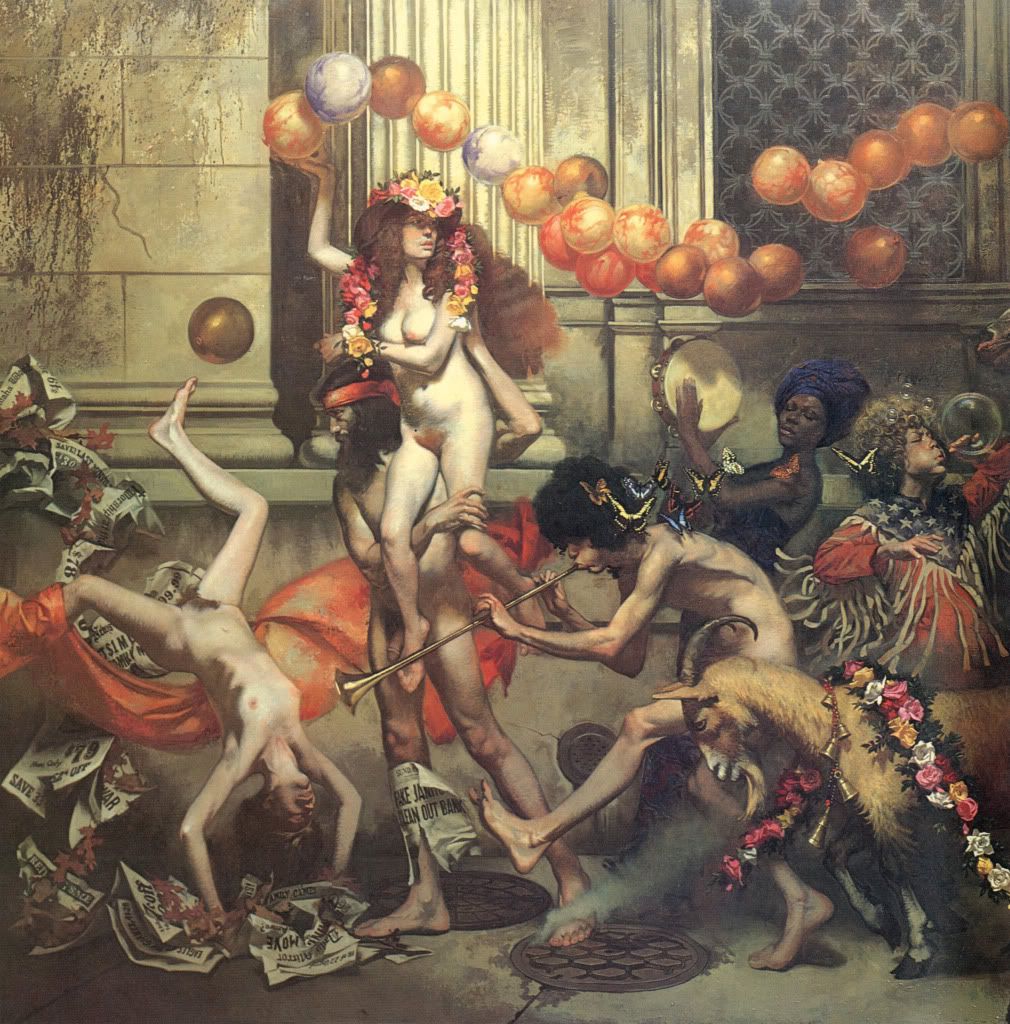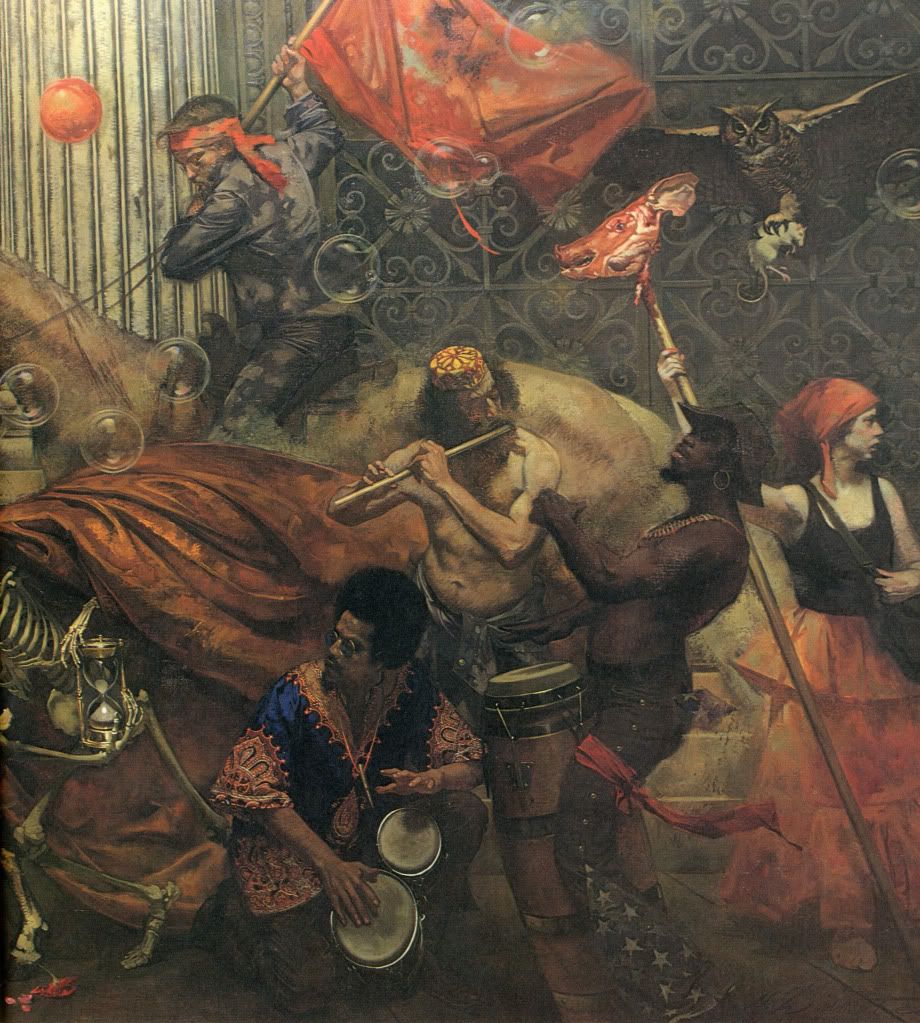 Initially, I thought it was a contemporary painting which referenced 1960s America, but was soon surprised to learn that this artwork, despite being representational in style, was painted in the early 1970s.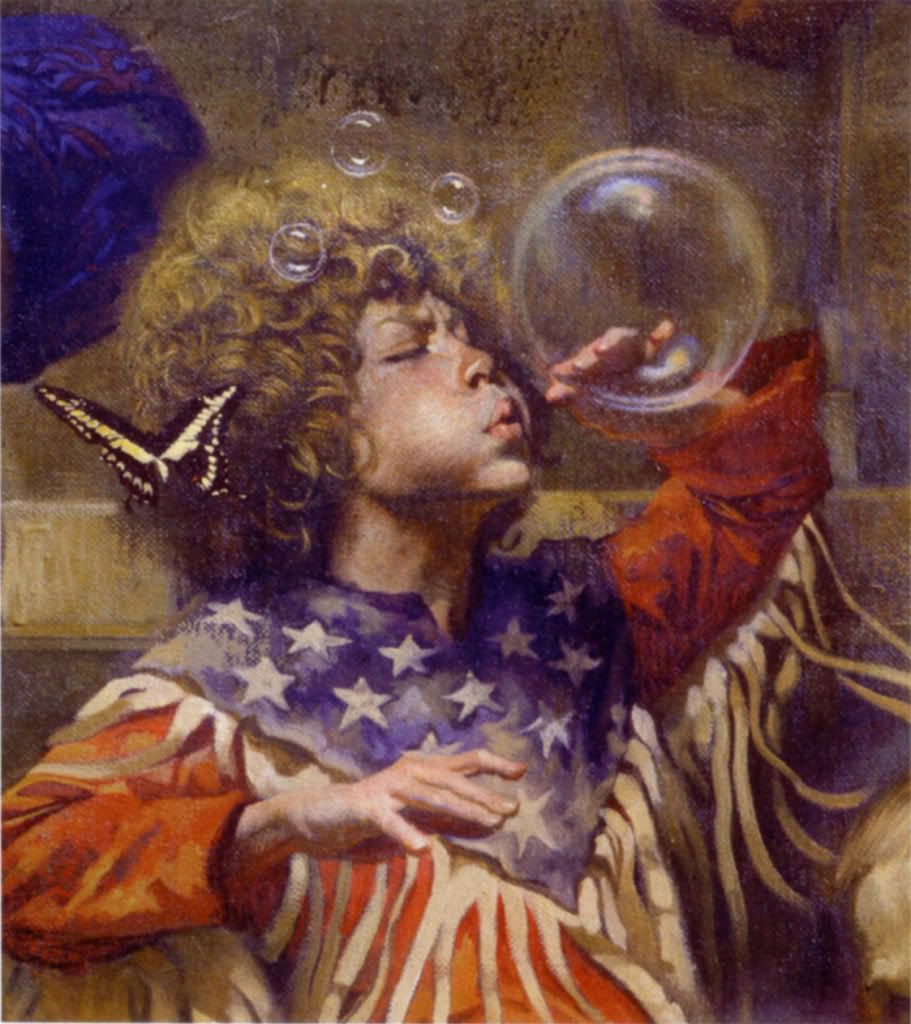 Dinnerstein, born in 1928, began studying art at age 16 with social realist
Moses Soyer
, and after graduating from Manhattan's
High School of Music and Art
, he went on to study briefly at the Art Students League of New York with
Yasuo Kuniyoshi
and
Julien Levy
, before completing his studies in Philadelphia, at the
Tyler School of Art
at Temple University. It was his goal to be a classical painter, but in the face of the trends of his time, like abstract expressionism, Dinnerstein found himself the object of public criticism. As an example, in a 1961 exhibit at the National Arts Club entitled
A Realist View
, Dinnerstein and like-minded contemporaries, Sheldon Fink, St. Julian Fishburn, Stuart Kaufman, David Levine, Seymour Remenick, Daniel Bennett Schwartz, Aaron Shikler, Burton Silverman, Herbert Steinberg, and Robert White were all "savagely attacked... by the
New York Herald Tribune
for putting 'man above style'"¹ Despite being "dismissed as old-fashioned,"² Dinnerstein persevered in his realist efforts, though it would take years before he received the national acclaim he deserved.
What had originally brought attention to Dinnerstein, and what had enabled him to continue and obtain exhibitions like 1961's A Realist View, was his interest in using art as social commentary. In 1956, moved by the brave act of a young woman named Rosa Parks who refused to move to the black section of a segregated bus, and by the non-violent protests of a young minister named Martin Luther King Jr., Dinnerstein, his wife, and his high-school friend, Burton Silverman, travelled to Montgomery, Alabama to record, in images and interviews, this significant and historical movement. Ten years later, he would be working as an illustrator for Esquire Magazine, covering the turbulent times following the assassination of Dr. King and the protests at America's increased involvement in the Vietnam conflict. Dinnerstein bore witness, through his art, candlelight vigils outside New York's St. Patrick's Cathedral, a protest march onto the military base at Ft. Dix, New Jersey, violence in the streets of Chicago, Vietnam veteran protests outside the capitol, and the massive demonstration outside the Lincoln Memorial after the killings of students at Jackson and Kent State. He was there, and although he felt that he did not comprehend everything he witnessed at that time,³ he did understand the humanity of the situations, and how best to portray them.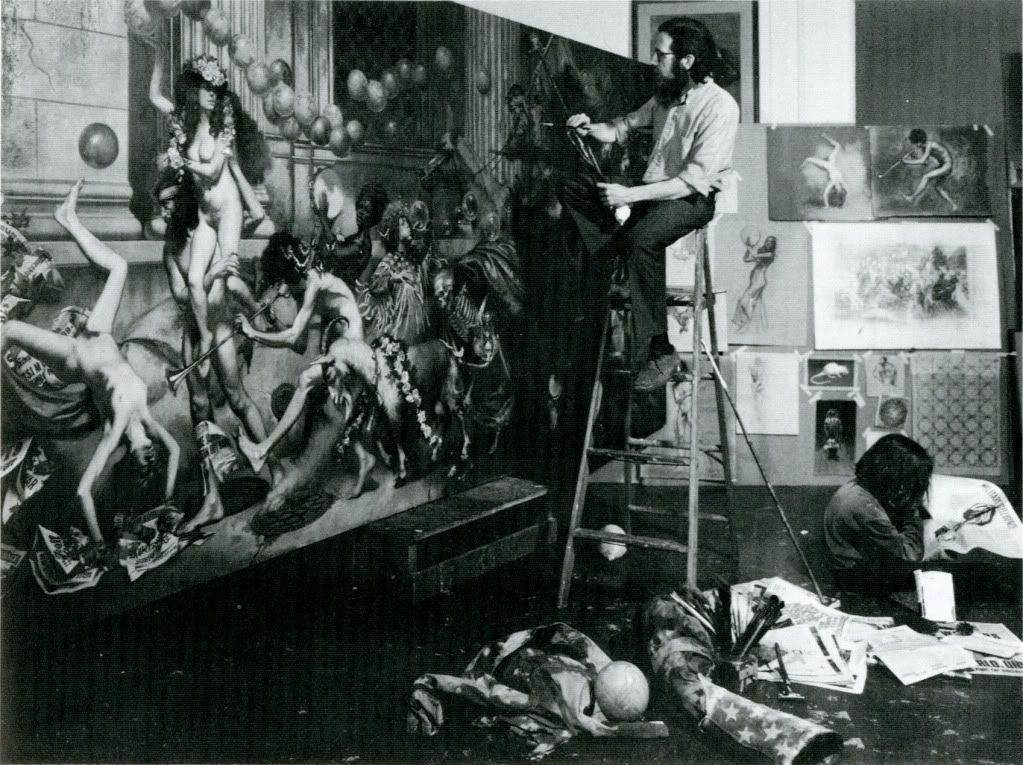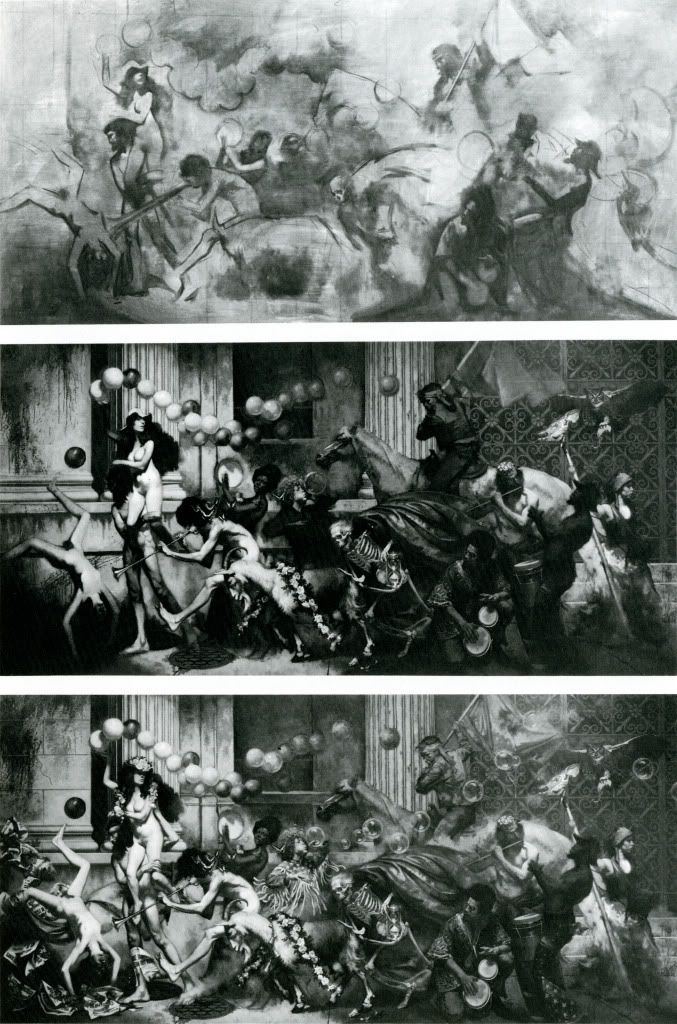 Of creating Parade, Dinnerstein said, "I had in mind a processional image, somewhat like the reliefs of Roman sarcophagi, related to Reubens' development of similar themes. I have a memory of an experience viewing Delacroix's Death of Sardinopolis at the Louvre. When you place yourself at a distance from the painting, so that the range of your vision encompasses the width of the image exactly, there is a dazzling effect of movement, and I hoped to arrive at some of that kind of energy in my painting."⁴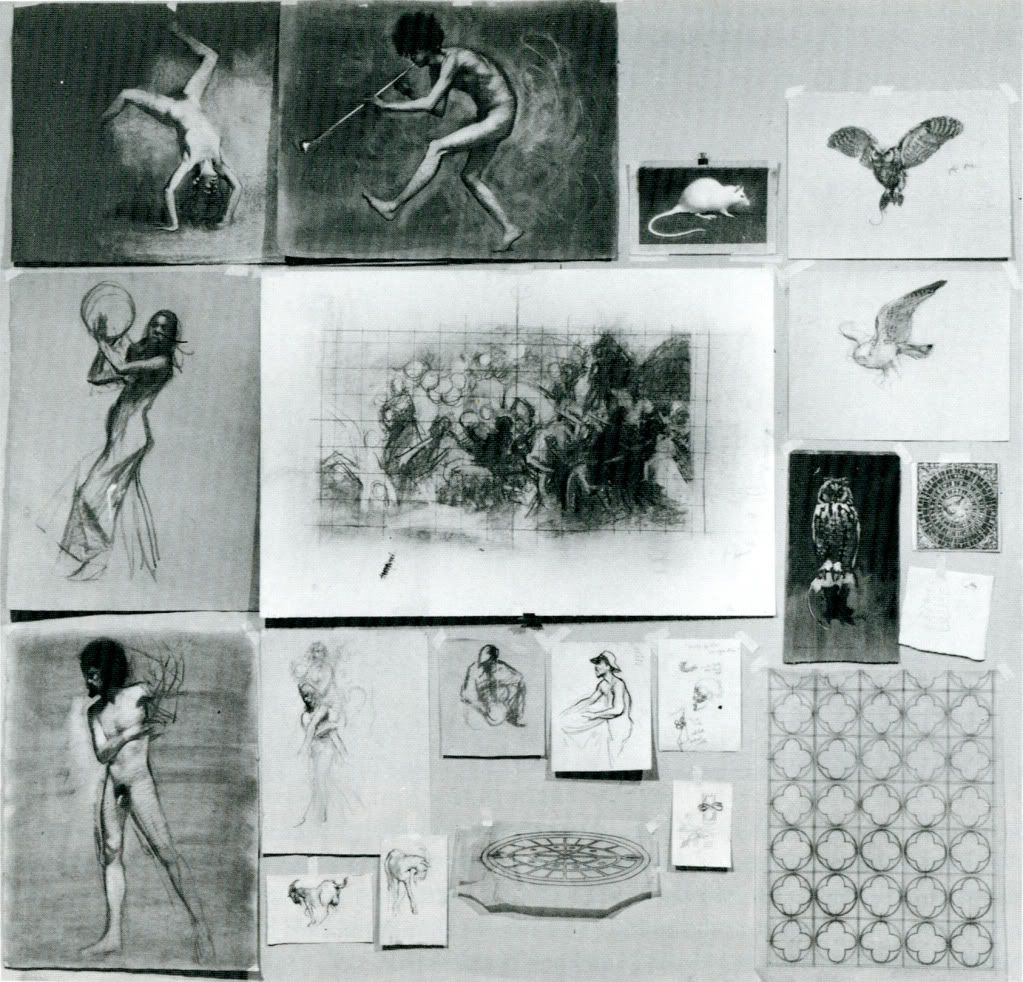 With his work, Parade, Dinnerstein sought to emulate the grand allegorical paintings of the Renaissance, but from the Naturalist viewpoint which made up his training. He found in the political demonstrations of the sixties, a use of symbolism and myth by the protesters from which he could create his own epic image. From his own notes and sketches made during his personal observation of that tumultuous time, Dinnerstein engineered this spectacular piece.
There are two books available on Harvey Dinnerstein. The first of these, published in 1978, is
Harvey Dinnerstein: Artist at Work
. It is no longer in print, but good used copies are still out there for reasonable prices. A more recent book,
Underground Together: The Art and Life of Harvey Dinnerstein
, was just published in 2008, and some sellers are offering it now, new, for under twenty dollars.
In returning to this picture by Harvey Dinnerstein, I was reminded how much I am taken with paintings that feature a processional motif. It is a good reminder to myself that I should attempt such a subject in my future. Here are a few other such paintings from which I have often been inspired.

The Vintage Festival (1871)
Sir Lawrence Alma-Tadema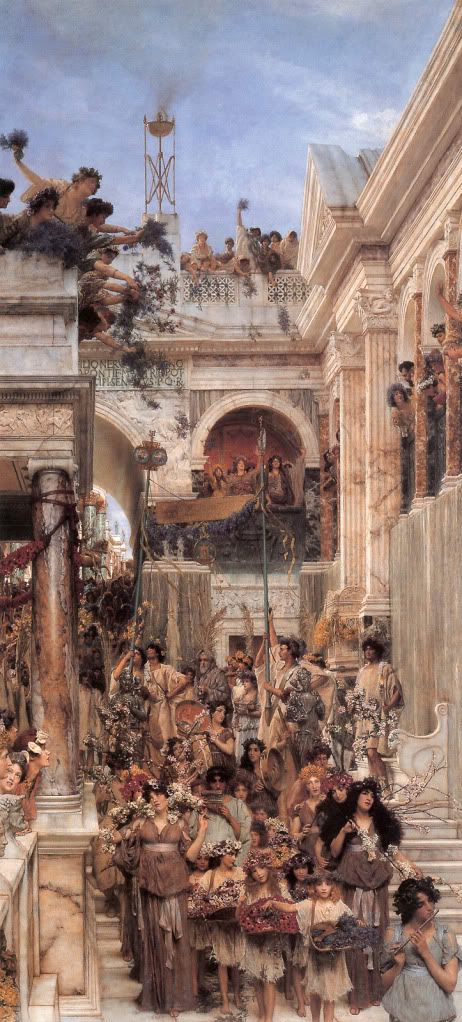 Spring (1894)
Sir Lawrence Alma-Tadema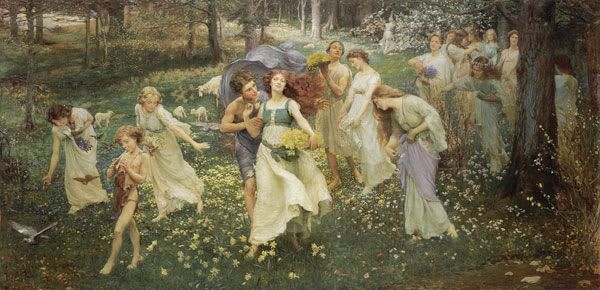 The Progress of Spring (1905)
Charles Daniel Ward
Dinosaur Parade
James Gurney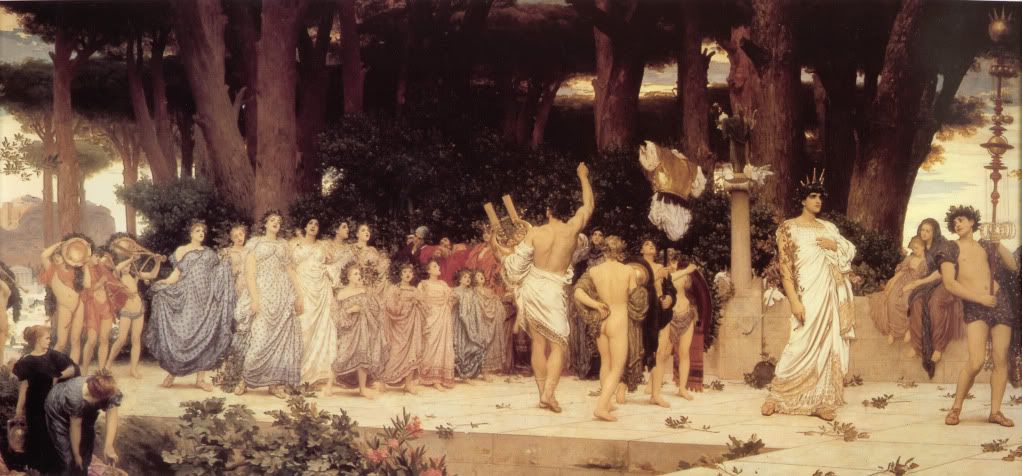 The Daphnephoria (1874-1876)
Frederic Lord Leighton
Cimabue's Celebrated Madonna is Carried in Procession through the Streets of Florence
(1853-1855)
Frederic Lord Leighton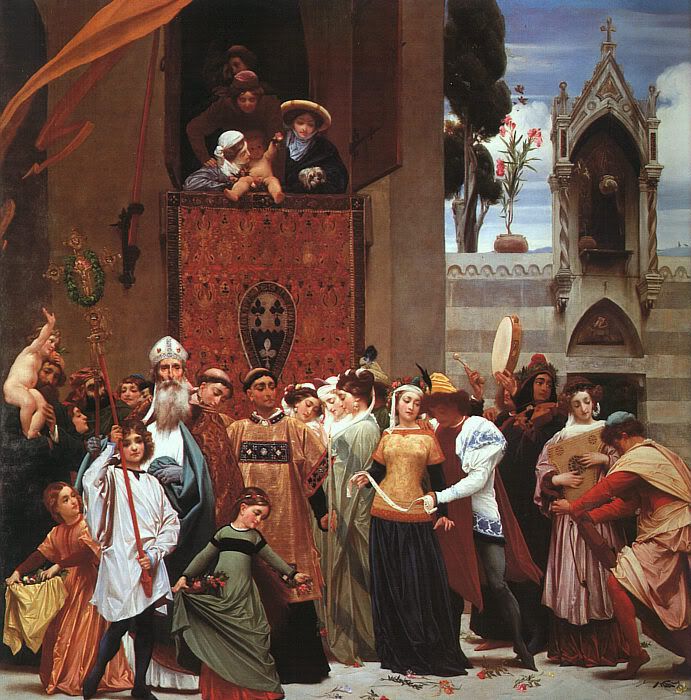 Cimabue's Celebrated Madonna (detail)
Frederic Lord Leighton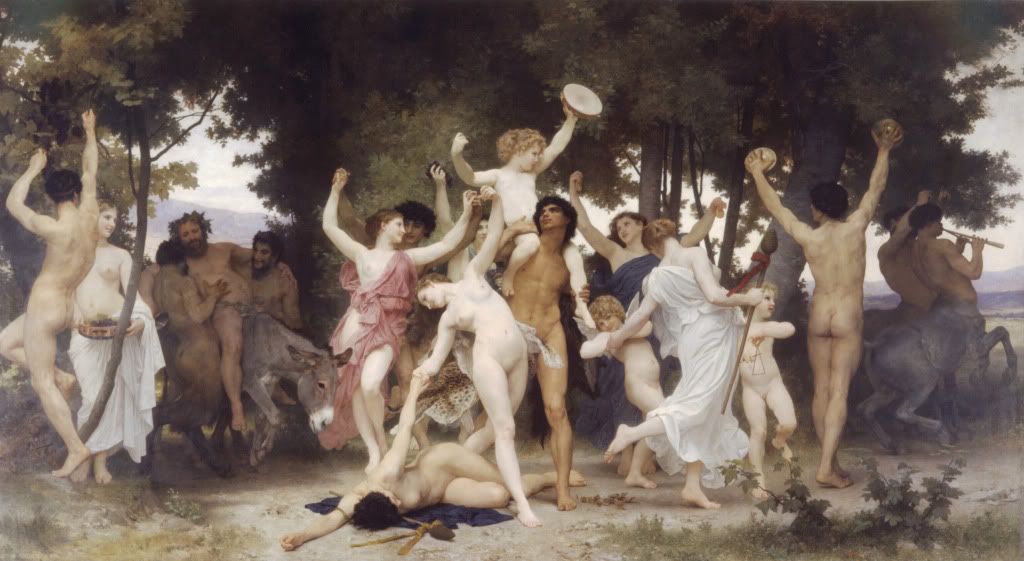 La Jeunesse de Bacchus (1884)
William Adolphe Bouguereau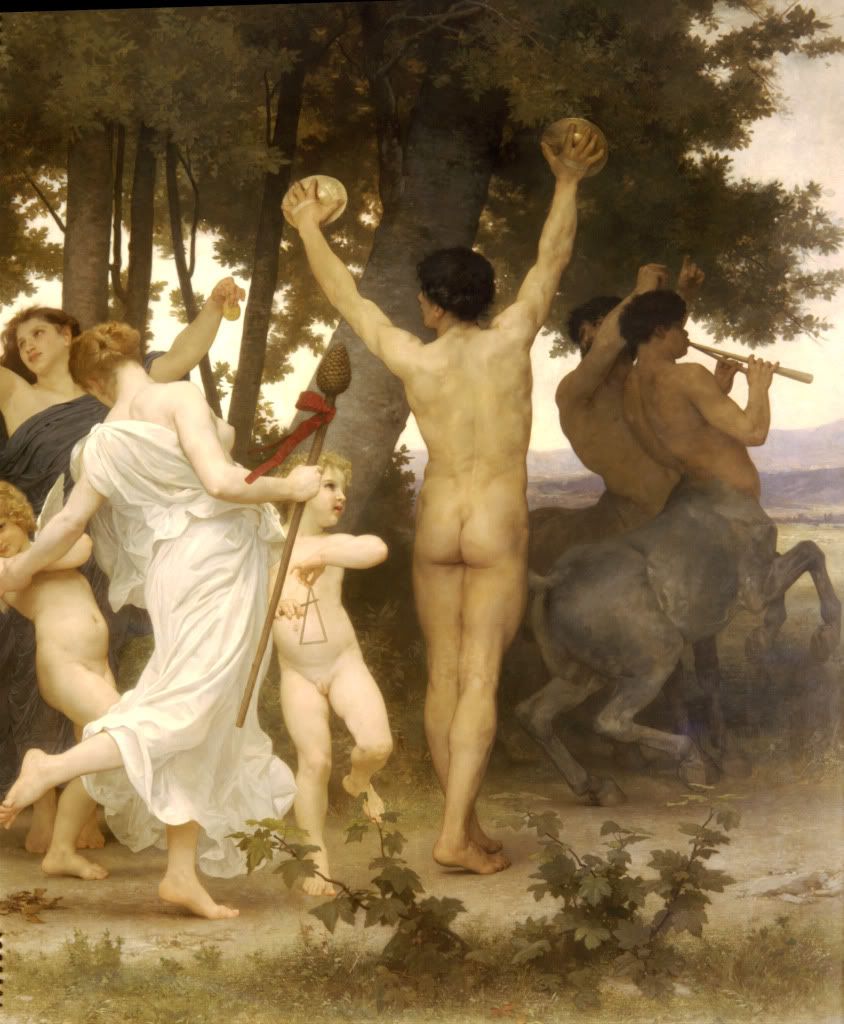 La Jeunesse de Bacchus (detail)
William Adolphe Bouguereau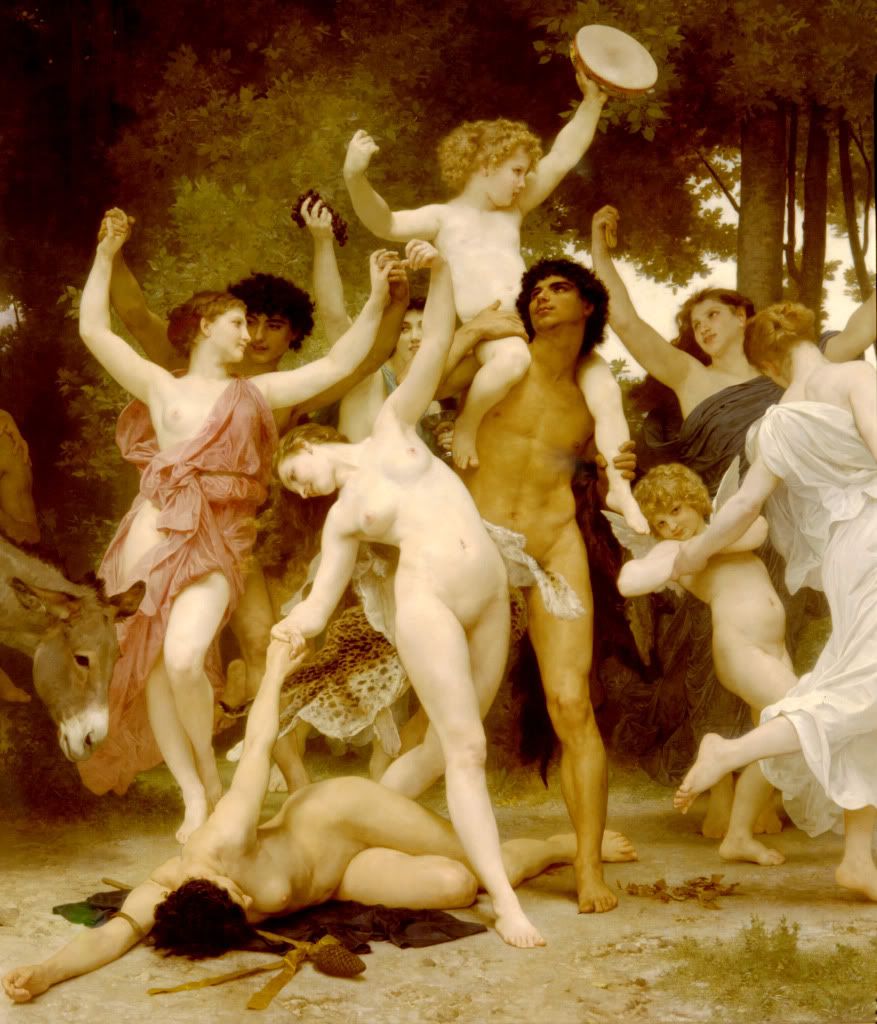 La Jeunesse de Bacchus (detail)
William Adolphe Bouguereau
¹ Gabriel P. Weisberg,
Harvey Dinnerstein: A Traditionalist for All Ages
, (
Fine Art Connoisseur
, December 2008), p. 45.
² Emily Genauer, New Rebels Put Man above Style (New York Herald Tribune, May 7, 1961), as qtd. in Weisberg, Gabriel P., Harvey Dinnerstein: A Traditionalist for All Ages, (Fine Art Connoisseur, December 2008), p. 45.
³ Harvey Dinnerstein, Harvey Dinnerstein: Artist at Work, (Watson-Guptill Publications, New York, 1978), p. 51.
⁴ Dinnerstein, pp. 51-53.