Homasote® is one of those unusual products for which the manufactured article and the company's name have become synonymous (like Xerox, Kleenex, and Scotch tape), yet very few people today know exactly what is this commodity. Made by the oldest U.S. producer of environmentally friendly building products, Homasote® is a compressed cellulose fiberboard made from 98% post-consumer paper. First introduced in 1916, the lightweight and weather-resistant "Versatile Homasote Board" has been used as everything from automobile roofs to exterior panelling on military field hospitals. It has even been used to make moveable shelters for Antarctic Expeditions. Though today it is regularly marketed as a sound-dampening building panel, it has yet another use which is of great benefit to artists: it is probably the best bulletin board material ever made.
I first learned of Homasote® while taking a
workshop
with
Anthony Ryder
several years ago in New Mexico. Ryder, who has the tendency to paint smaller canvases, finds the average easel set-up to pose problems when his painting surface is crowed by the apparatus' upper and lower shelves. To create more elbow room (literally), Ryder uses moderately sized pieces of Homasote® to which he then tacks his paintings with half-inch or longer pushpins. With his canvas secured to the board, he is then freed to paint to the edges of his support without difficulty.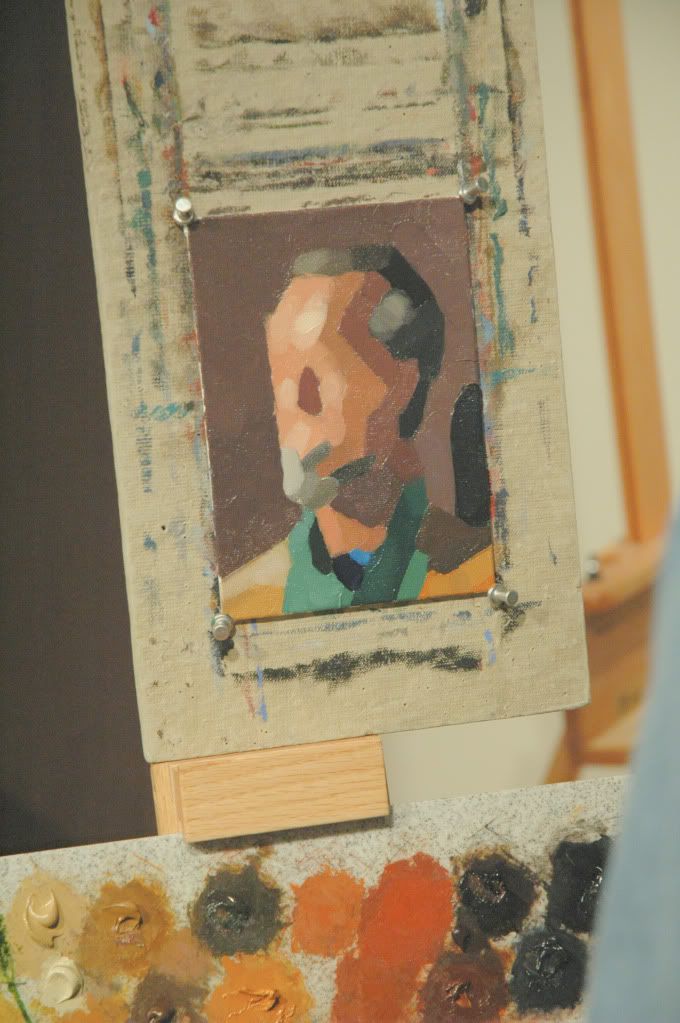 More recently, I have seen Homasote® on the walls of the Grand Central Academy in New York, where it is used to hold sketches and demonstration drawings around the walls of the studio, up and above the students' working areas.
I keep several small Homasote® boards around my studio to which I tack my canvas and reference material, and sometimes, a paper palette. If I need to switch to another painting, I just remove the entire board and insert a new one, with its own painting and set-up intact. This way, I can quickly switch from work to work with ease.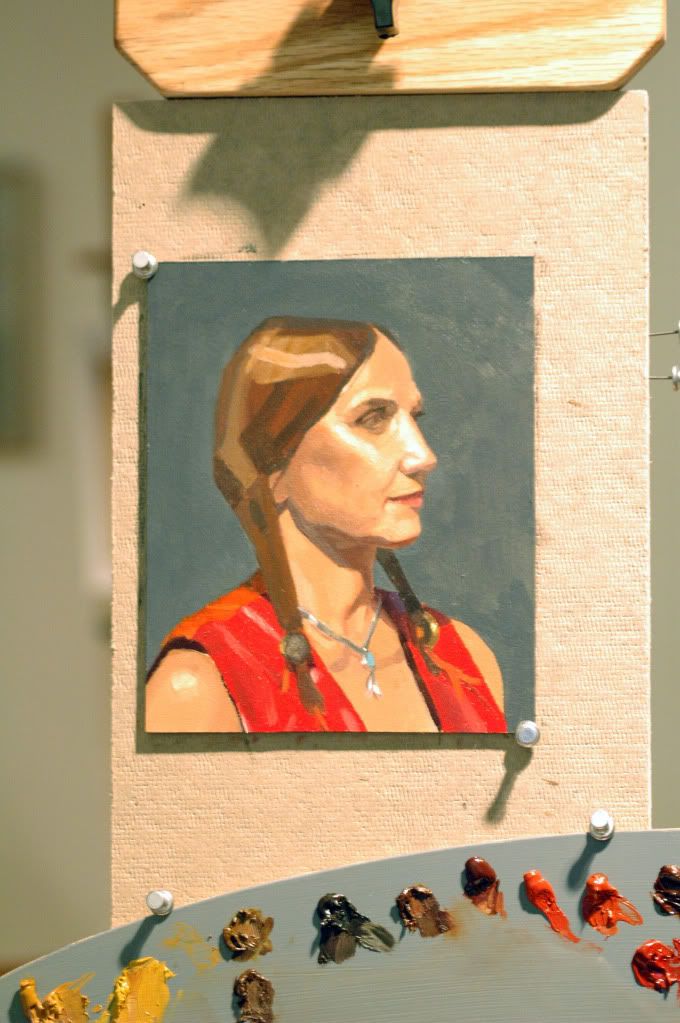 My own poster study from the Ryder workshop, pinned to Homasote®
Finding Homasote® can be somewhat tricky, especially if you ask for it by name. Smaller lumberyards are more likely to recognize the product, but if you describe it as a sound-abatement panel, you might be able to locate Homasote® in the insulation department of bigger box stores (Home Depot, for example, carries it in the northeast, but don't expect to find it on their website). The Homasote® Company offers a search engine on their
website
to help you find the nearest retailer carrying their product, and it's a great place to start your hunt.
The board itself comes in 4' X 8' panels which are ½" thick. It is easy to cut with a saw, and at places like Home Depot, they will cut it for you (the first two cuts are free). Because the board is composed of a lot of recycled newsprint and cardboard, it is a pleasing warm gray in color (approximately value 6 on the Munsell scale). Currently, it sells for about $10 a sheet.
Lately, Homasote® has been gaining popularity as a bulletin board, and more and more designers have been using it in home decorating to create "dream boards," which they cover in fabric and to which they pin meaningful images. To service their buyers better, the Homasote Company has created a newer product called
PINnacle™
, designed specifically as a tack board. Like Homasote®, it also comes in standard 4' X 8' sheets, but it is ³⁄₈" thick, and is made from 100% post-consumer paper. Hopefully it will be easier to find.