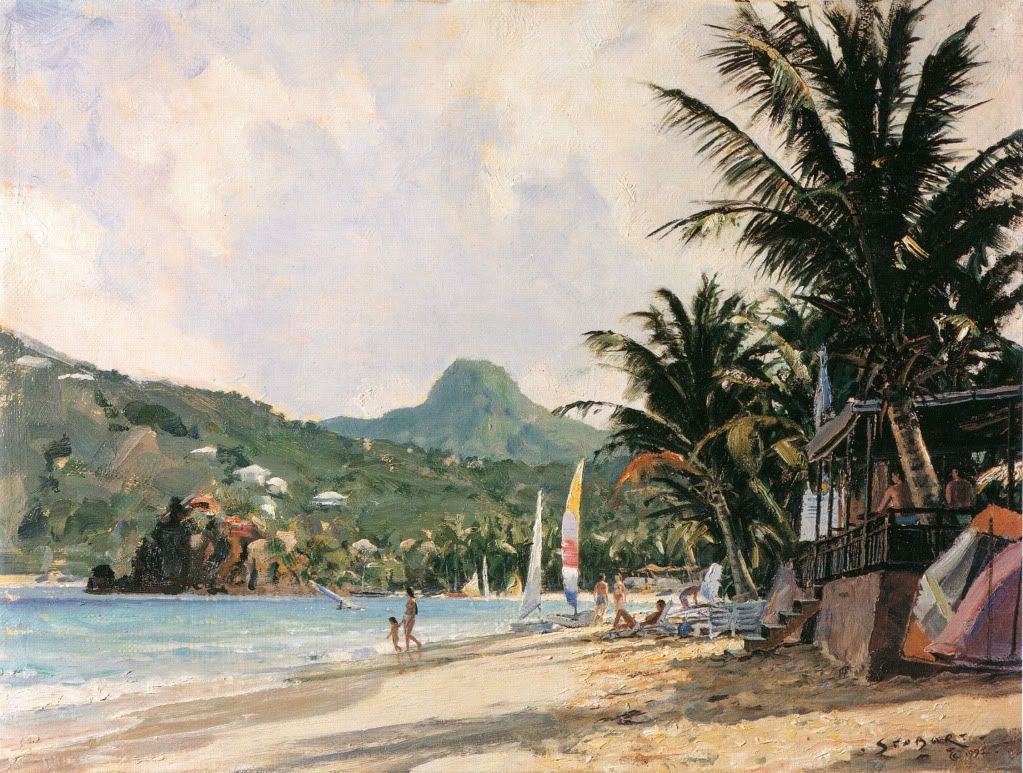 Over the past sixty years, John Stobart has used his interest in sailing ships and painting en plein air to build a gallery of work which has resonated with collectors worldwide. Through hard work, talent, and innovation, Stobart was able to achieve a career for himself during an age when realistic paintings were not in vogue, by pursuing his loves wholeheartedly and without compromising on the quality he knew he could deliver. Now, after a half-century of success, Stobart hopes to give back to today's young life-painters by providing aid and education to these students who, he laments, did not receive the quality and type of art education he obtained during his school years.
Stobart was born December 29, 1929 in the city of Leicester, England. He was the second son of a self-made businessmen who ran a successful five-story emporium in Derby called Boots the Chemists, but his mother, sadly, had died during his childbirth. With his father busy building and expanding his business, the rearing of John and his brother was left to their maternal grandmother and a series of housekeepers. It was these housekeepers and his grandmother who encouraged the young boy when he showed an early aptitude for art.
Stobart's performance in primary and secondary school was dismal, resulting in his failure of all grades in high school. During those years, Stobart spent his time in the back of his classrooms drawing rather than learning the lessons his teachers were trying to impart. His father, still hoping his son might become a productive member of society, used his none-too-considerable influence in Derby to get John enrolled in the local College of Arts and Crafts after he had completed his regular course of studies at age sixteen. Much to everyone's surprise, including his own, Stobart excelled in this new arena.
Training in Derby's College of Art in 1946 was very Academic, and in the best sense of the word. Stobart and his fellow four students in his class spent the first two years of study continually practicing their drawing skills. They began by rendering shapes, then moved onto objects like chairs and tables. Later they moved onto drawing the human skeleton and learning anatomy, before venturing into working from plaster casts. During these first two years they were also required to travel about the city executing drawings of Derby's many periods of architectural history, from Roman to the then present day. The final two years of training were spent working extensively from the live model. His hard work and talent garnered for Stobart high honors upon graduation from Derby, and one of four available slots at London's prestigious Royal Academy Schools.
It was not long into his studies at the Royal Academy that Stobart realized that his program in London was going to be a mere repeat of his studies in Derby. Although he understood the value of such practice, he also knew that figure work was not going to be the means by which he would establish a lucrative career. With the tacit approval of Henry Rushbury, then Keeper at the Royal Academy and a nationally acknowledged watercolorist of Italianate cityscapes, Stobart began making forays into the local countryside to paint directly from nature.
Shortly after graduating from the Royal Academy in 1957 (Stobart's four-year study was interrupted by mandatory military service), Stobart embarked on a sea voyage to visit his father who had moved to South Africa after purchasing a pharmacy there in 1950. While traveling from port to port along the African coast, Stobart came up with an idea: he decided to make studies of each of his twelve stops, and, incorporating his knowledge and love of sailing vessels, add in newly launched and yet-to-be-built ships to his compositions. His first painting was of the cargo-passenger ship he was then aboard, the Braemer Castle, which he quickly sold to the Union Castle Line, owners of the ship. Within two years, his original paintings of exotic ports were decorating the board rooms of more than fifteen shipping companies in London.
For the next ten years, Stobart divided his time between England, where he had an established group of collectors, and Canada, where he focussed his attentions on collectors interested in the sailing companies along the St. Lawrence River. While meeting the needs of his clients on both sides of the Atlantic, Stobart came to the realization that there was a vast untapped market in the United States, where few artists had previously represented America's nineteenth century ports and harbors. After a six month sabbatical, during which Stobart intensively studied his new subject, he began work on his American maritime paintings, for which he is now best known.
With four paintings wrapped in brown paper and tied up with string, Stobart headed to New York City by train in 1965 to look for gallery representation. By chance, he sat next to a prominent art editor, Donald Holden of American Artist magazine, who politely, if reservedly, agreed to look at the artist's black and white portfolio. Upon seeing the quality of Stobart's work, however, Holden was completely absorbed, and recommended that the artist take his work to four specific, leading galleries in the City. At his first stop, Kennedy Galleries, the owner, Rudi Wunderlich, offered Stobart a one-man show on the spot. Over the next fifteen years, Wunderlich gave Stobart seven solo shows, all of which were nearly complete sell-outs.
With the popularity of his paintings of America's "Age of Sail" increasing, Stobart decided to offer limited edition prints of his more important works for sale in addition to his originals. In 1976 he founded Maritime Heritage Prints, Inc. so that he might be in complete control of the quality of these reproductions.⁴ Since 1988, Stobart has used profits from his company to help fund the Stobart Foundation, which offers fellowships to young artists who excel at painting from life. So far, nearly one hundred $5000 fellowships have been given to recently-graduated art students who need help making the next step to becoming professional painters.
------------------------------------------------------------
John Stobart's color palette has changed very little since his student days, when a teacher advised him that a restricted palette would help ensure a color harmony throughout his work.⁵ His colors are as follows:
²Stobart, p. 6.
⁵Stobart, p. 18.