It has been many years since I made regular art book purchases from a bricks-and-mortar bookstore. I began ordering books through the mail in 1992, the very same day my first Bud Plant catalog arrived and I came to the realization that there were companies out there specializing in the types of books I wished to purchase. Of course, now I make most of my purchases over the internet, and the number of sources from which I have to choose has grown exponentially.
When I can, I rely upon recommendations and reviews in making my book choices, but most of the time, I purchase my books sight unseen and with no idea of what will arrive on my doorstep. I am often very happy with my picks, but occasionally, I grab a lemon.
When one of those disappointments shows up, I have to ask, "For whom are the publishers creating these art books?" Some books I have gotten are written by art historians who are understandably proud of their research, but who tend to forget that their subject created paintings. Where are the pictures? Sometimes, even when the number of images is decent, the quality of the pictures is poor: they are blurry, dark, or pictures of photocopies. The printers can often be blamed here, or the publishers who don't bother to check the color proofs, but it is at times beyond either of their control- Often the images must be licensed from the museums which house them, and the pictures those museums provide are woefully inadequate. I've bought books where the cover image is the only good picture in the book, and I've bought books where not a single of the artist's greatest works was included. I have books where every image is too small, and books where too many images are too big, and run across the furrow in the book, and the best part of the paintings are lost in the crevice of the book's shoulder joint. If artists (or picture-lovers) are the ones who most frequently buy these books, and I think that they are, why aren't they made with the artist in mind?
With my last three book purchases of 2009, despite buying them before seeing them, I knew I would have no lemons. Why? These books were BY artists FOR artists. I was confident that these three knew what to give to their fellow artists, and I was not disappointed.
The first book I received was Richard Schmid's
The Landscapes
, which, upon opening it, gave me the feeling of uncovering a treasure chest or digging up a time capsule. The images inside range in date from 2007 back to 1960, and represent locations throughout the world where Schmid has lived or visited over the past half-century. Of those nearly 250 paintings pictured in the book, there were so many with which I was not familiar.
I ordered the hard-bound edition, which is over an inch thick, cover-to-cover. Because of its size, the book opens and lays quite flat for displaying the images nicely, and the pages being 9" x 14", allowed for several of the paintings to be printed actual size. Many of the images were photographed in raking light, and are large enough that the brushstrokes are clearly visible, which is a real treat.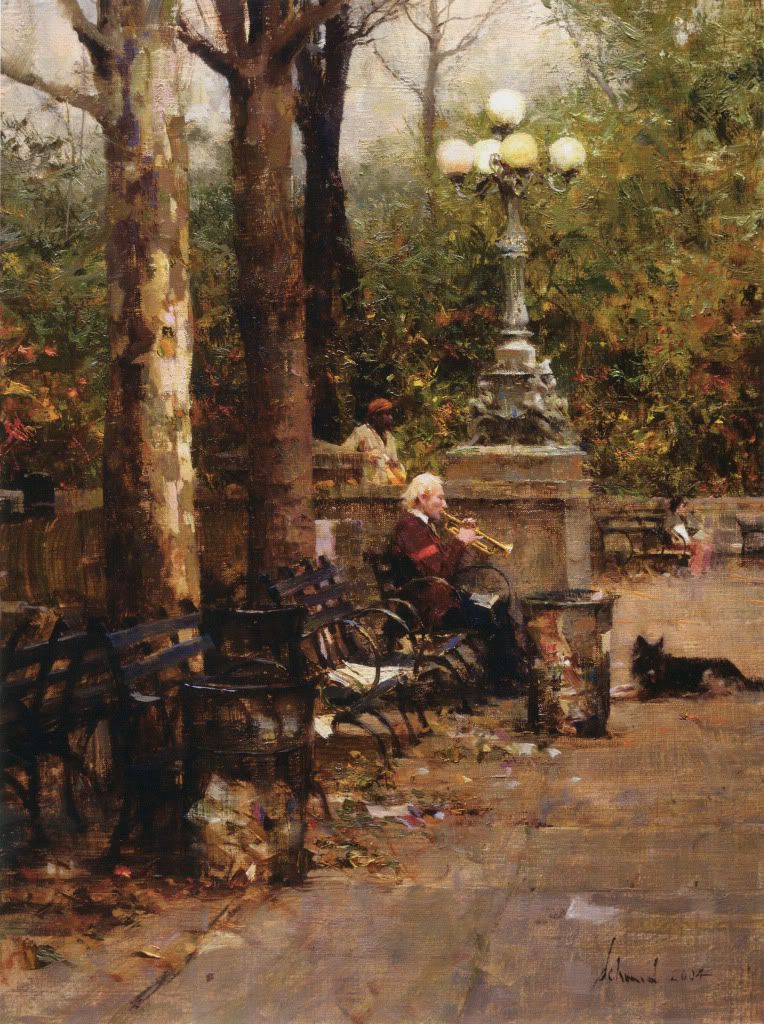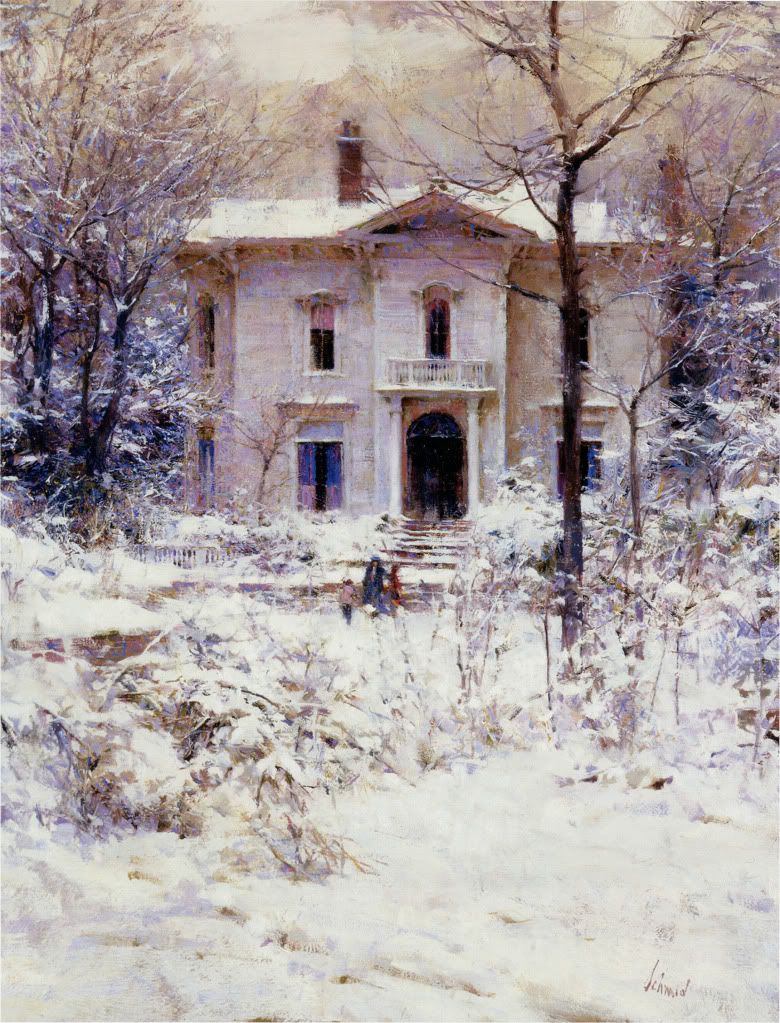 © 2009 Richard Schmid and Stove Prairie Press, LLC
Schmid familiarized himself with Adobe Photoshop so that he could do the color corrections himself. Some works were from so early in his career, that no one near him or working on the project had ever seen the originals before, so Schmid felt no one could do a better job bringing the color in the old photos back in line with how the paintings' colors really looked. Without his work on this, so many of these wonderful works may have been lost to posterity (excepting the owners of the original pieces). I look forward to the next two collections in Schmid's three-volume retrospective, Still Life and Figures, and to all of the treasures Richard will reveal when they are published.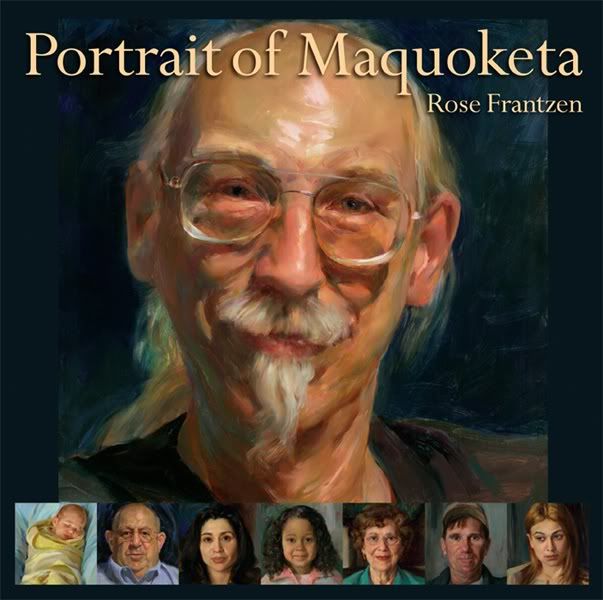 Of the three books, Rose Frantzen's
Portrait of Maquoketa
was the purchase about which I might have had any reservations. This concern had nothing to do with Frantzen's artwork; I loved her paintings from the first time I saw them. What had me worried was the price- it seemed too
in
expensive for a book which intended to reproduce 180+ paintings in color.
© 2009 Rose Frantzen and Old City Hall Press
Like Schmid before her, Frantzen formed her own publishing company and produced her own book, a very daunting undertaking. The advantage to doing this however is that you have complete control over the output, and the results of the artist having so much involvement in the creation of such a book can be breathtaking. This is the case with Frantzen's book, which stands as not only a beautiful collection of paintings, but also as a source for artists who wish to study Frantzen's work intimately (Several of Rose's original 12"x12" portraits are reproduced in the book at a size of 10½" x 10½", and could easily be used as sources for student copy-work).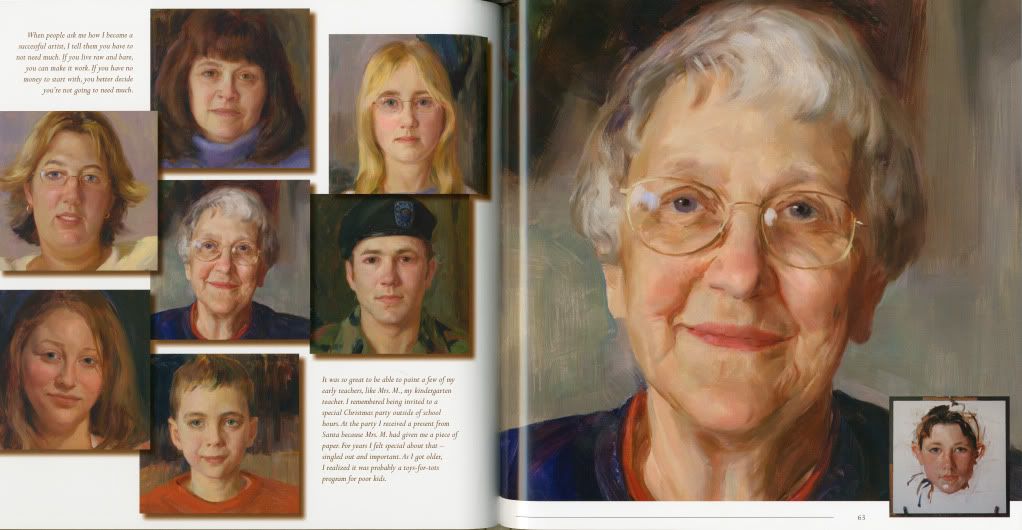 An example of an actual spread in Rose Frantzen's Portrait of Maquoketa
© 2009 Rose Frantzen and Old City Hall Press
What I like so much about the book, besides the excellence of the paintings, is that it is, as the title states, a portrait of a town and not just a collection of portraits of sitters. The 6,100 citizens of the small, Iowan town of Maquoketa not only served as the inspiration for Frantzen's portrait project, but also as the labor behind the production of the book (the book was printed by Maquoketa Web Printing). To me, the project represents the America that I learned to believe in during my youth, and shows what a community can accomplish when it takes pride in the quality of their creations. It is probably my favorite book purchase of 2009.
Frantzen's 180 portraits of her fellow townspeople is currently on view at the Smithsonian Institution's National Portrait Gallery in Washington, DC. The
exhibit
runs through July 5th, 2010.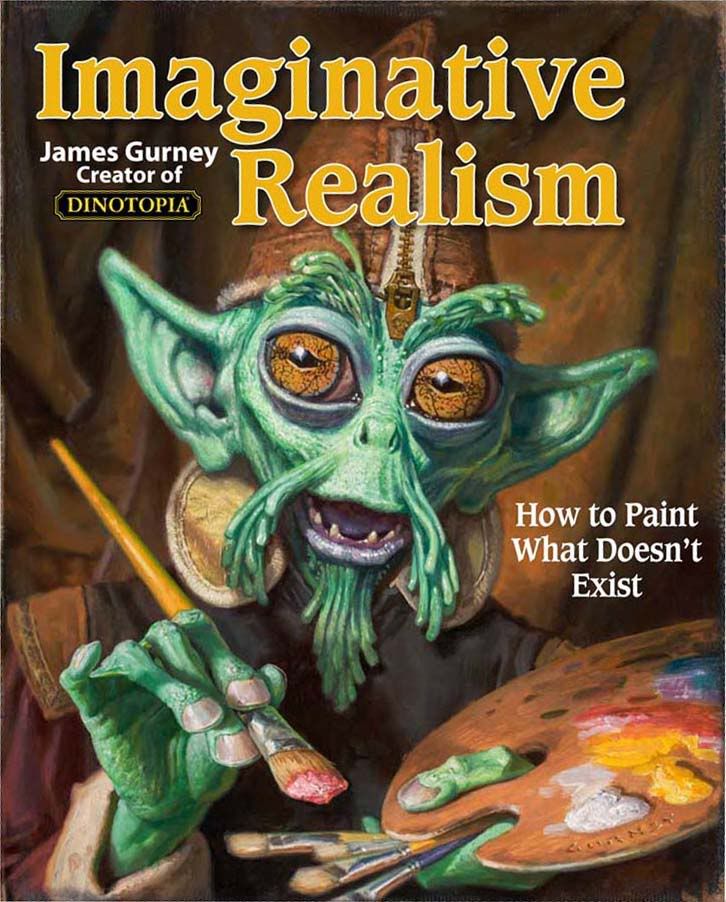 The third book is not a coffee-table art book, like the other two (though it contains some beautiful images), and I would not classify it as a how-to book (though there are so many lessons to learn within its pages). If anything, this new book,
Imaginative Realism
, by
Dinotopia
creator, James Gurney, is like the missing manual that should have been handed out to anyone graduated in the past several decades with a degree in illustration. In it, the highly intelligent Gurney gives tip after tip on how artists can paint items which no longer exist or have never existed and make them seem real.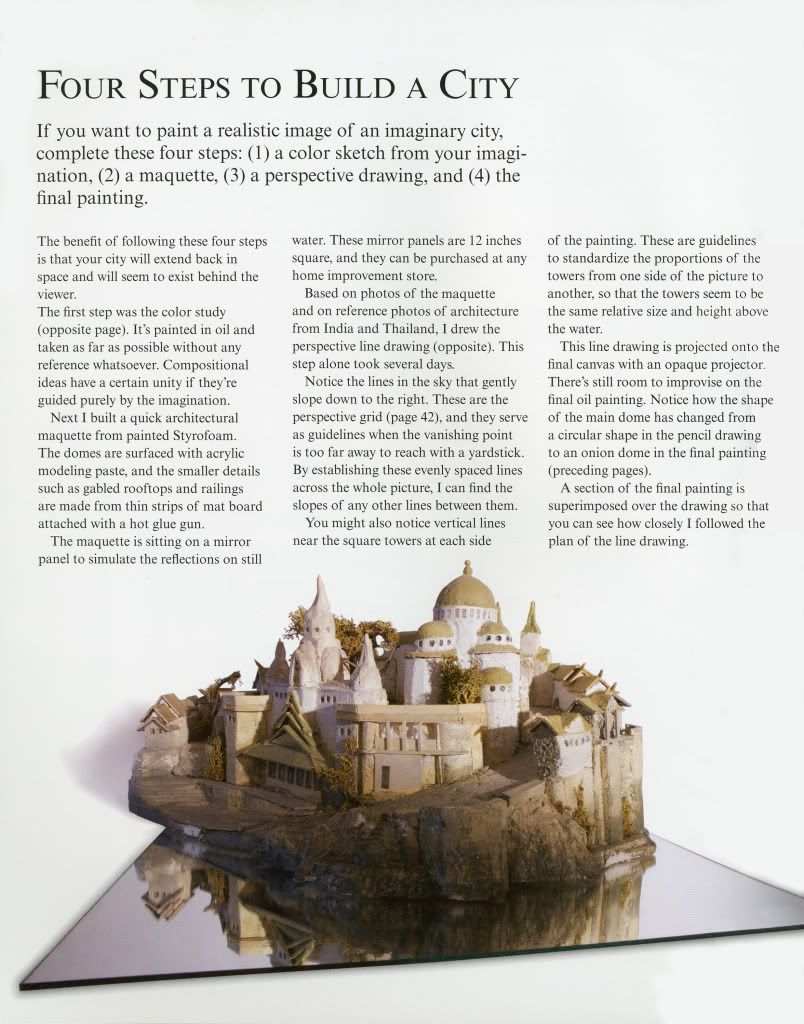 A sample page from James Gurney's Imaginative Realism
©2009 James Gurney and Andrews McMeel Publishing
The book is compiled from posts from James' very popular blog,
Gurney Journey
, and cover such topics as setting up your studio, building and photographing maquettes, costuming, composition and perspective, material handling, life studies, and career options for artists, to name just a few. In the book are the answers which fill in many of the gaps in traditional training, and it is, by rights, a wonderful companion book to such instructional classics as Andrew Loomis'
Creative Illustration
and Norman Rockwell's
Rockwell on Rockwell
.
If you have not read Gurney's blog, I'd be surprised. I would imagine that anyone who has found their way here has already spent a great deal of time perusing the lessons Jim shares on a daily basis. It was his blog which inspired me to start Underpaintings, and my gratitude is not nearly enough thanks for allowing us all the glimpse into the behind-the-scenes work this brilliant man puts into all of his creations.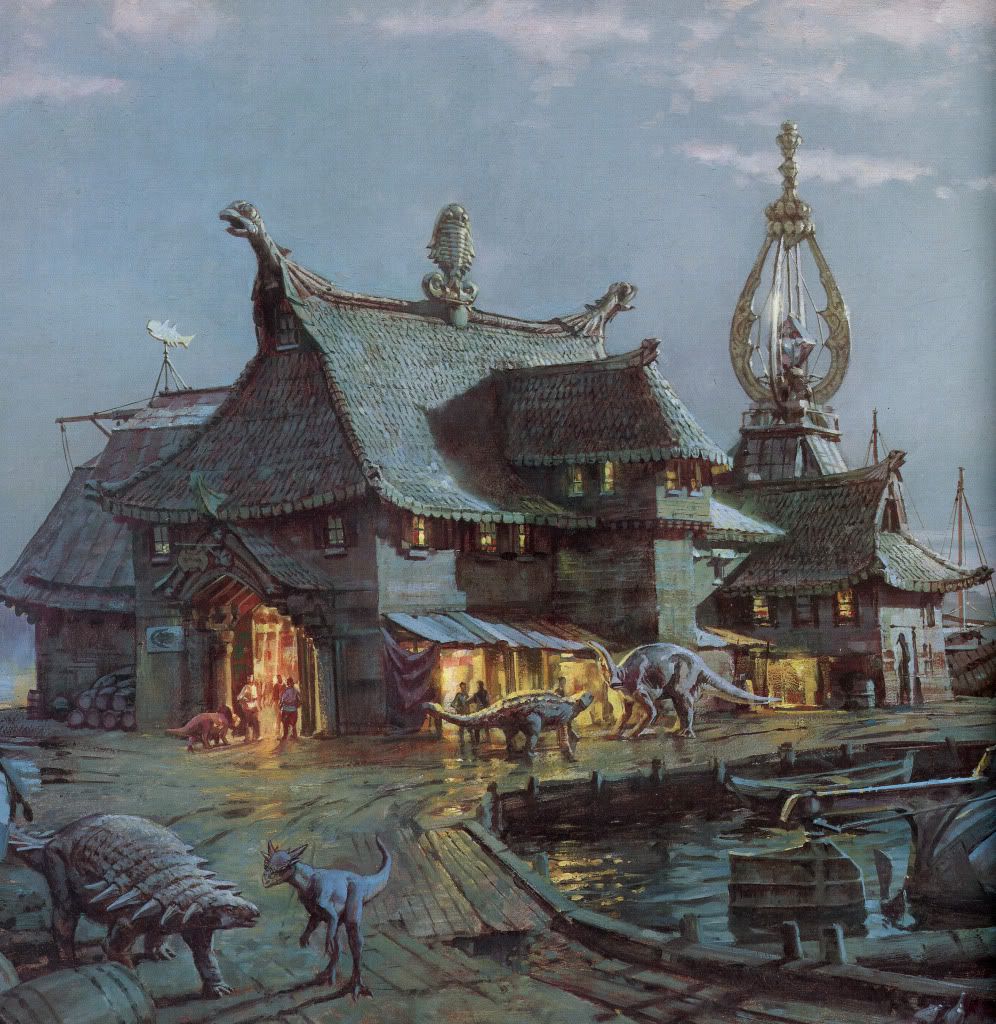 © 1995 James Gurney, The Greenwich Workshop Inc., and Turner Publishing
I look forward to Gurney's next book installment,
Color and Light
, which is also culled from his blog, and promises to be just as informative.
Note: Images used in this post are copyrighted by their respective license holders, and are used here solely for the purpose of review.