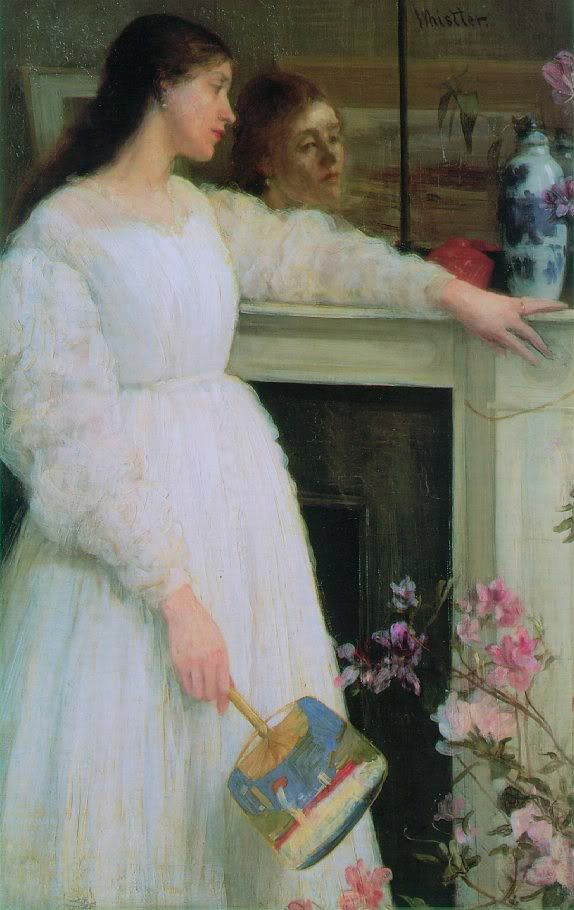 American expatriate, James Abbott McNeil Whistler, painted at a time of great excitement and change within the art world. While a student in Paris at the Academy of
Charles Gleyre
, he was friend and classmate to the artists who would alter the face of art, those painters who would become known as The Impressionists, but Whistler, always the eccentric and outsider, pursued his own course toward fame. His works, inspired by the realism of
Courbet
, the spontaneous brushwork of
Velázquez
, and the harmonious arrangements of great music, were studies in tone, meticulously planned, yet painted with freshness and verve.
(His) technique was a quirky mixture of methods of painting learnt at Gleyre's academy in the 1850s together with a series of improvisations directly onto the canvas. When working on large paintings, he used a three-foot long mahogany table as his "palette," arranging an array of mixed colours and tones on it with meticulous care, saying on one occasion, "If you cannot manage your palette how are you going to manage your canvas?" He worked with a fully loaded brush, holding it firmly and applying paint to canvas in a single confident sweep, standing at a distance from his canvas in order to balance the emerging forms with his subject. His long-handled brushes were specially made for him, and he also had a particular liking for large house-painter's brushes, his favourite being one to which he gave the name of Matthew. In place of the traditional mahlstick he preferred to use a walking cane.¹
Whistler always strove for a restrained and harmonious effect, avoiding excessive colour and strong tonal contrasts, and unlike the Impressionists he never worked on a white canvas, always pre-tinting his ground a mid-grey, warm brown, red or sometimes even black. He would not begin a painting until he had prepared it, tone for tone, on his table-top "palette." In his portraits, the accents of tone would become sharper and sharper as the session progressed, and at the end of it the painting was either declared finished, or it was washed down with spirits in preparation for a fresh start the following session. His perfectionism was such that his unfortunate subjects often had to endure endless sittings.²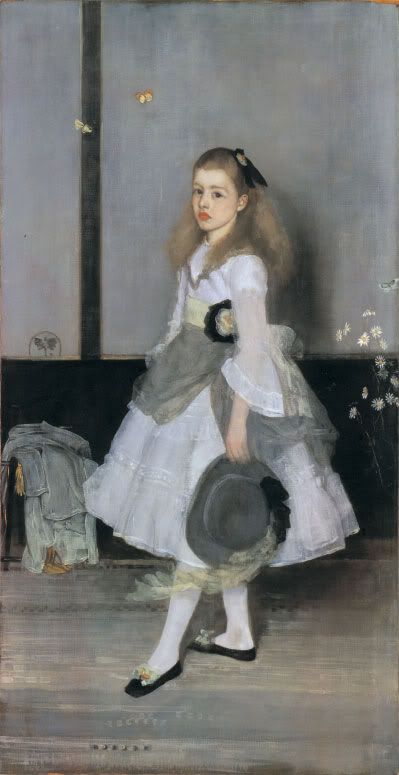 For his Portrait of Miss Cicely Alexander (Harmony in Grey and Green, above), Whistler organized his table-top palette in the following way. In the centre he placed a large mass of flake white. To the left of this were ranged light yellow to browns, and to the right were the reds, gradating to blues at the cool end of the colour-temperature scale. Below the central white was a band of black, the extremities of which were used for mixing flesh and background hues.³
Whistler's colors were as follows:
Lemon Yellow
Cadmium Yellow
Yellow Ochre
Raw Sienna
Raw Umber
Burnt Sienna
Vermilion
Venetian Red or Indian Red
Rose Madder
Cobalt Blue
Antwerp Blue (a weak pigment inferior to Prussian Blue)
Flake White
Ivory Black
From Gleyre, Whistler learned the axiom that "Black is 'la reine des couleurs!',"⁴ and it appears from the tonality of his work, that he followed that early lesson and began each of his color mixtures with black.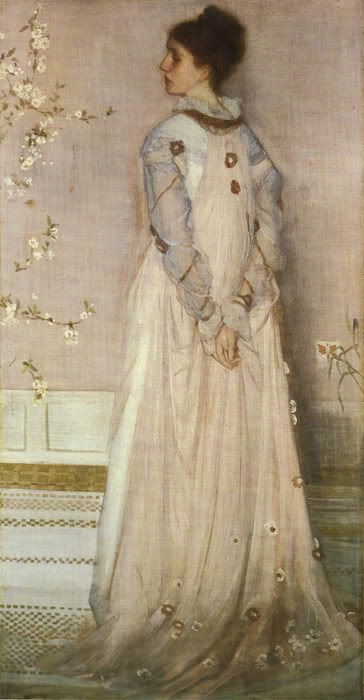 ¹ Michael Howard,
Whistler (History & Techniques of the Great Masters)
, (Eagle Editions, London, 1989), p. 13.
² Ibid.
³ Ibid.
⁴ Albert Boime,
The Academy and French Painting in the Nineteenth Century
, (Phaidon Publishers, New York, 1971), p. 63.