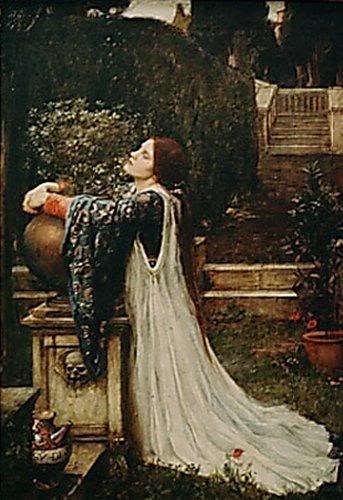 For over 30 years, John William Waterhouse's painting,
Isabella and the Pot of Basil
, has been "unlocatable" and inaccessible to art historians. The painting had sold at Christie's Auction House in 1967 and entered into the
Lord Lambton
collection, but after its appearance in the Waterhouse retrospective exhibition at the Mappin Art Gallery, Sheffield, in 1978, its whereabouts were unknown. Now, after three decades, the painting has shown up again, exactly where you might expect it to; in
Rod Stewart
's bedroom.
Photos by Mary E. Nichols for Architectural Digest
In the May 2007 issue of
Architectural Digest
, the 28,000 square foot, Beverly Hills home of the rocker-turned-crooner was profiled, and in one
image
, the painting could be seen above the mantle in Stewart's master suite. An expert spotted the painting and passed the discovery on to Catherine Payling, curator of the
Keats-Shelley House
in Rome, who had been interested in finding the work. Payling shared her excitement, and the original painting's location has since been confirmed by Waterhouse authority Peter Trippi through interviews with sister-sites
johnwilliamwaterhouse.com
and
ArtMagick
. The provenance from Lord Lambton to Stewart, however, has not been released.
Stewart, who is an avid art and antique collector, is most proud of his collection of Pre-Raphaelite paintings, of which, he believes, he has one of the world's largest assemblies. Only about one-third of that group of paintings are on display in his California home. Hopefully, now that the location of Isabella and the Pot of Basil is known again, Stewart might be convinced to loan the painting to upcoming exhibits, or perhaps, even include the work in a showing of his extensive, private art collection.