Las Naranjas de Jujuy
Several years ago, I saw

El Sol del Membrillo

a documentary about the working process of contemporary Spanish painter

Antonio López (García)

. Director Victor Erice follows López through his personal challenges and triumphs as he attempts to paint a Quince tree. I found it fascinating how Erice showed the techniques behind one of today's most brilliant realist artists from the perspective of a non-technical person, and not from that of a painter. I wanted

Flower Painting

to be based off of their documentation of the artistic process, while bringing more to the viewer from an instructional standpoint. Having seen many DVDs by other artists, I was really inspired to bring something unique to the market.

Flower Painting

shows every aspect, from start to finish, of how a living artist can create respectable paintings.




This book is to act as a guide to better your understanding of my techniques in Flower Painting. It is a simple effort to share my knowledge of painting with as many people as I can reach. Art that is full of reason, beauty, talent, and above all rareness cannot be ignored. I believe strongly that we are lacking respect for competent painting in our culture.




- Michael Klein, Flower Painting: The Guide, pp. 8-9.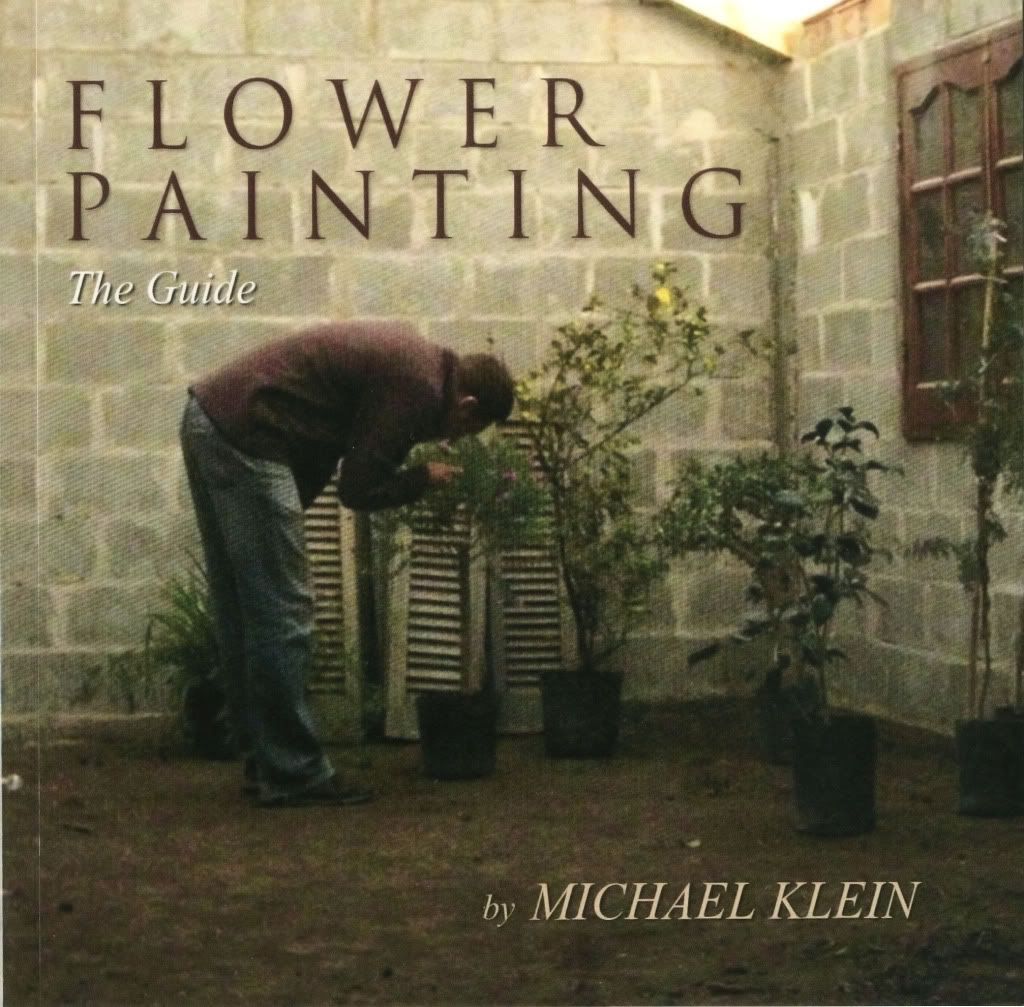 Though artist
Michael Klein
and his wife, Nelida, were successful at achieving their goal of wedding a documentary with an instructional video in the DVD,
Flower Painting
, Klein still wanted to provide his audience more. With his book
Flower Painting: The Guid
e, Klein expounds upon the ideas and lessons put forth in his DVD, sharing his specific techniques and his personal thoughts on the craft of painting. It is his goal to bring a better understanding of the artistic process to artists and non-artists alike.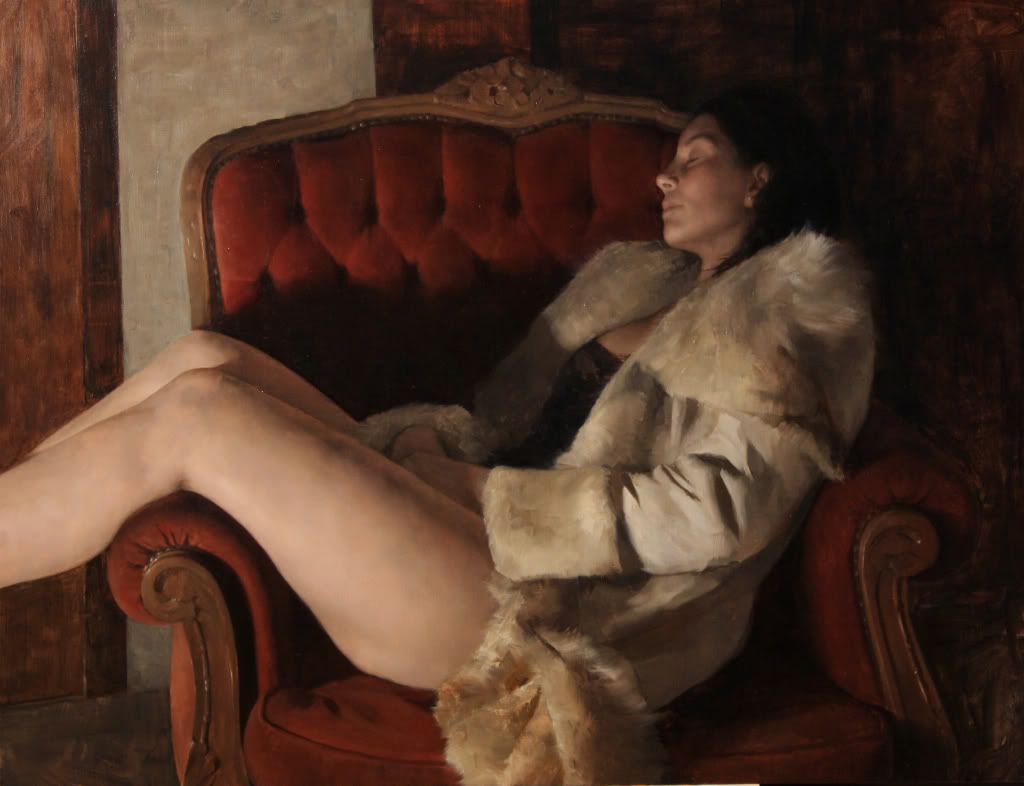 Latenight
Certainly, the book was intended to complement the DVD, but it is not that they need each other. Both the video and the book stand well on their own, and I for one carried The Guide, which measures under seven inches square, to various appointments and events, thoroughly enjoying the reading of it despite the lapse in time since last viewing the DVD. In the book, Klein refers back to the painting he created during filming, but most of the information is broader, and gives a good sense of the classical training the artist has received, and the intelligence with which he assimilated the methods he outlines.
Chapters in the book include:
Introduction
Education
Getting Started
The Block-In
Starting with a Drawing
The Transfer
My Brushes and Canvas
Mediums
Commencing
Workflow
Keeping it Transparent
Strategy of Attack
The Reality
Painting From Life
Importance of Study
Opinion on Photography
Color
Color Mixing
Premixing Colors
The First Layer of Paint
Form
Light, Halftones, and Shadows
My Advice on Floral Painting
The Flower Sketch
Putting it All Together
Practice Makes Perfection
Finishing
Conclusion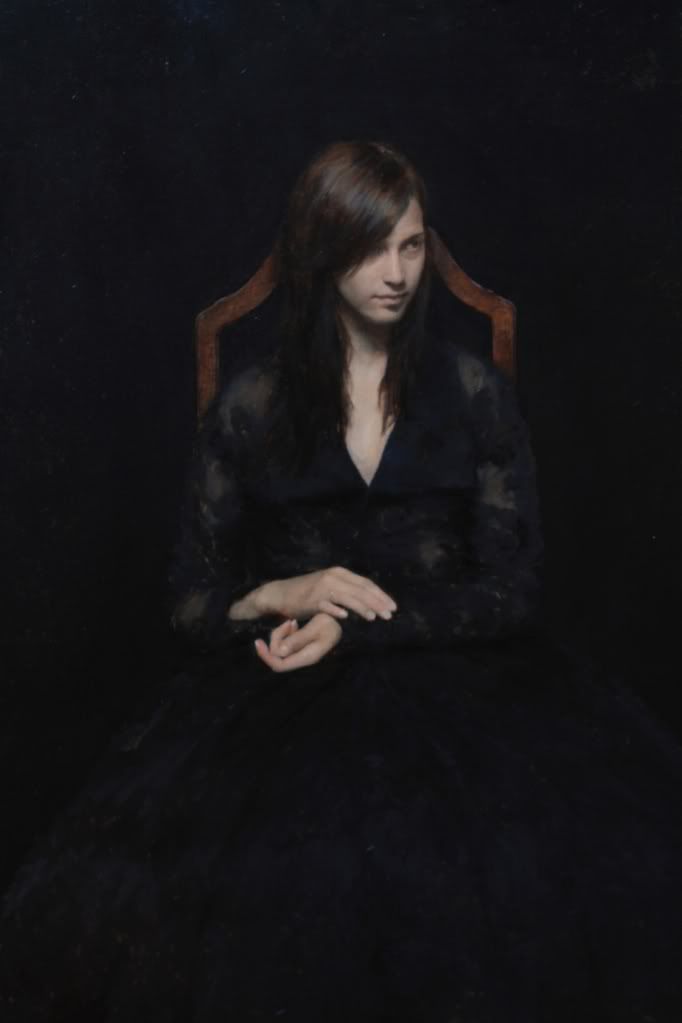 The Bride
Michael Klein is part of a growing group of young artists who are trying to bring their specialized art training to a wider audience using any means available. The technical skill Klein has amassed since the age of 18, while painting nearly every day, either on his own or in the studios of his mentors*, is significant, and he has now expanded his passion for art by making it a mission to share his accumulated knowledge. His book and DVD combination are just the beginning of what promises to be Klein's unique perspective on training the up and coming generation of realist painters.
Flower Painting
the DVD and
Flower Painting: The Guide
are available directly from Michael Klein at his
website
.
* I feel the need to mention here that Klein as well as the other artists who are sharing their knowledge have each studied under several teachers, but many seem to have Jacob Collins in common. Obviously, Collins has not only been raising up great artists, but also great teachers, and he deserves kudos for that.
------------------------------------------------------------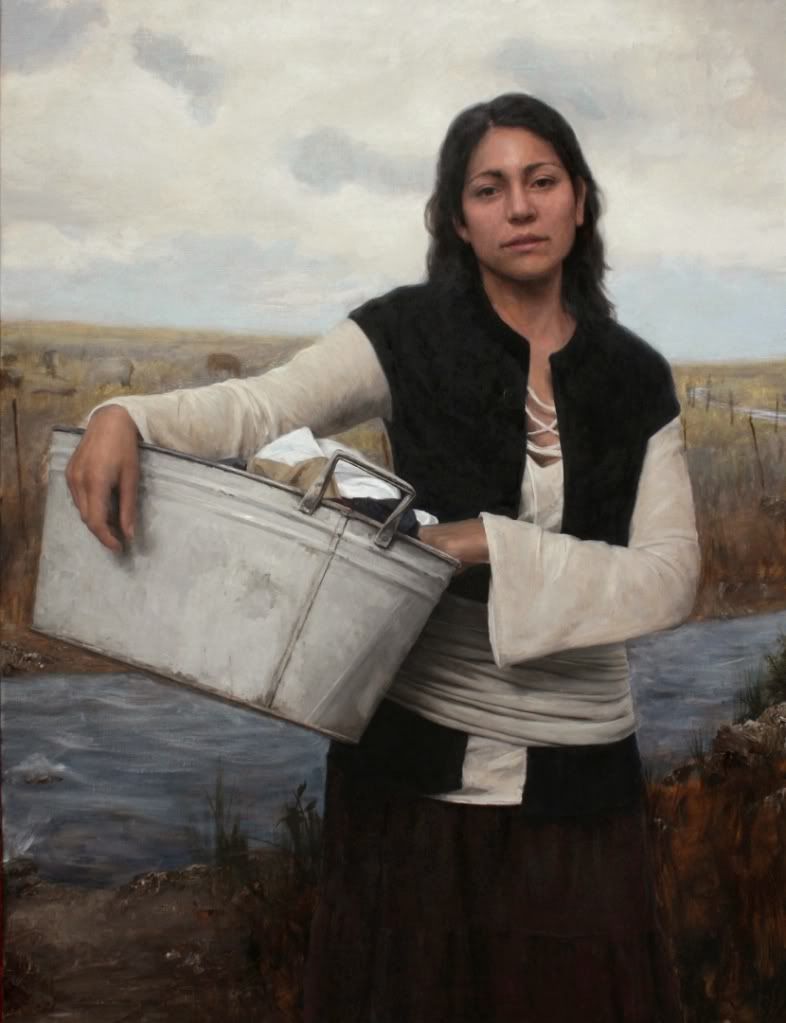 The Wash Girl
This spring, Klein will be having his second solo show at
Arcadia Gallery
in New York City. It will be his first exhibit there since his highly successful debut in 2008, and marks his return to the United States after living in Argentina for the past few years. The exposition will contain over 20 new works inspired by his time spent abroad (several are pictured here in this post), and will run from May 13th through the 28th. Catalogs of the show will be available directly from Arcadia Gallery.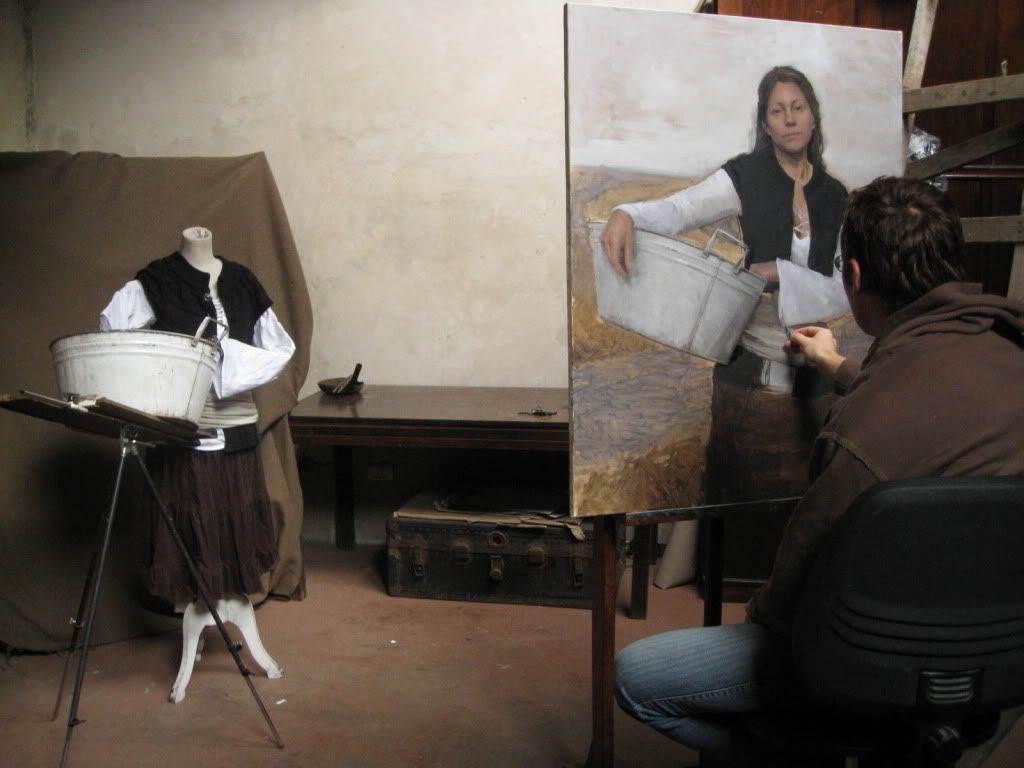 Arcadia Gallery is located at 51 Greene Street (between Broome and Grand), and is open from 10 AM to 6 PM, Monday through Friday, and 11 AM to 6 PM weekends. Since its founding in 1998, Arcadia has been a leading showcase and salesroom for some of today's best contemporary, representational art. Its roster of artists includes such modern masters as Jeremy Lipking, Malcolm Liepke, Michael Grimaldi, Ron Hicks, Daniel Sprick, Joseph Todorovitch, and Robert Liberace.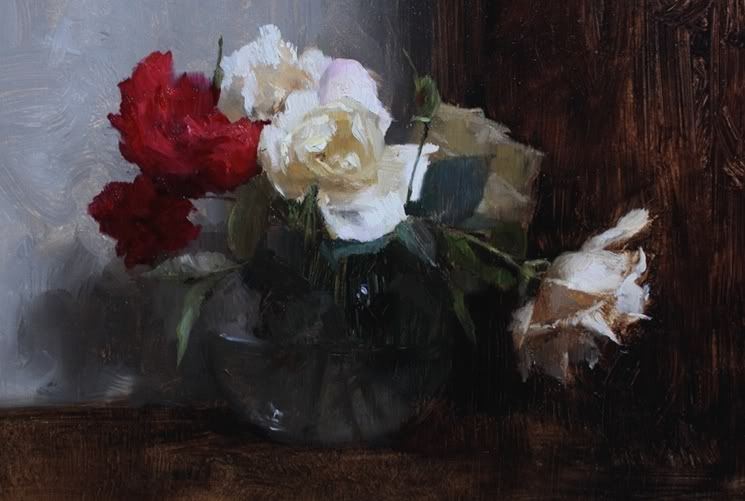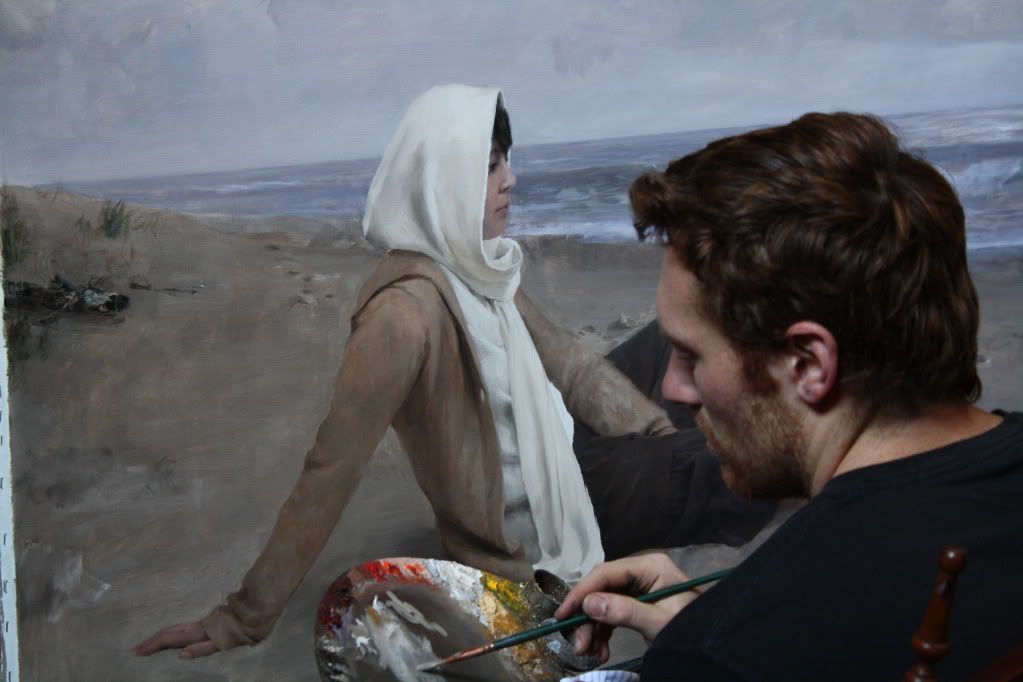 ------------------------------------------------------------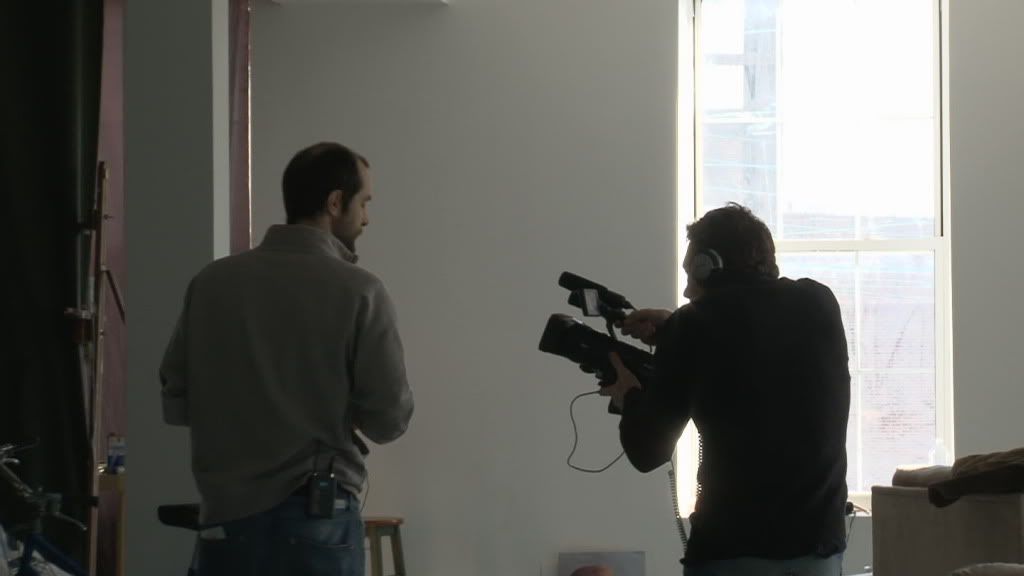 Filming Kerry Dunn
This April,
Klein Art Productions
, a new production company formed by Michael, his wife, and his two brothers, will launch an exciting new project called
American Painting Video Magazine
. Episodes of the online quarterly will be available to download for a small fee from
APVM
's
website
, and will include interviews with today's top realist artists, studio tours, painting demonstrations, and much more (Annual subscribers will be given a reduced rate). Each issue is expected to be over two hours long.
The premiere Spring issue is scheduled to contain the following video segments:
"Paul G. Oxborough at Eleanor Ettinger Gallery, NYC" with Fran Bradford
"A Portrait Demonstration" by Philadelphia artist, Kerry Dunn
"A Conversation with Jacob Collins" an interview by Peter Trippi, editor of Fine Art Connoisseur Magazine, and author of the book J.W. Waterhouse
"Artist Profile" of Carlo Russo
"Still Life Demonstration" by Travis Schlaht
"Schools and Ateliers" with Robert Armetta at the Long Island Academy of Fine Art
When I contacted Klein to ask him a few questions about these upcoming projects, he honored me with a very special offer: he asked if I would be interested in contributing to the first issue of American Painting Video Magazine. How could I say "no" to working with such a great group of artists? Filming for my segment has not occurred yet (I'm holding up the works), but should everything go as planned, you will see me on film offering a review of Robert Liberace's recent DVD, The Figure in Motion, in the Spring edition of APVM. Wish me luck!
Oxborough Show at Eleanor Ettinger Gallery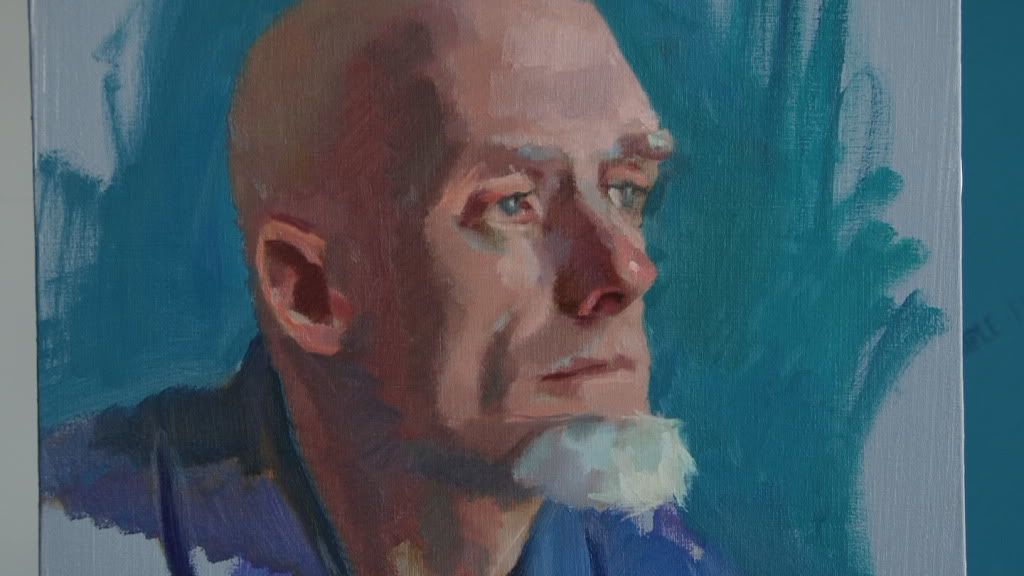 Kerry Dunn Demo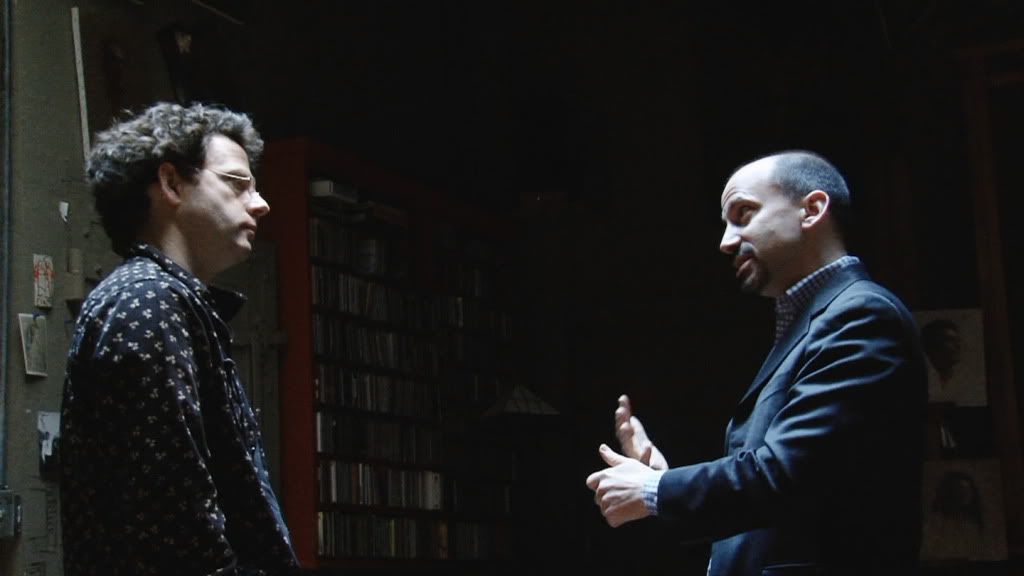 Jacob Collins and Peter Trippi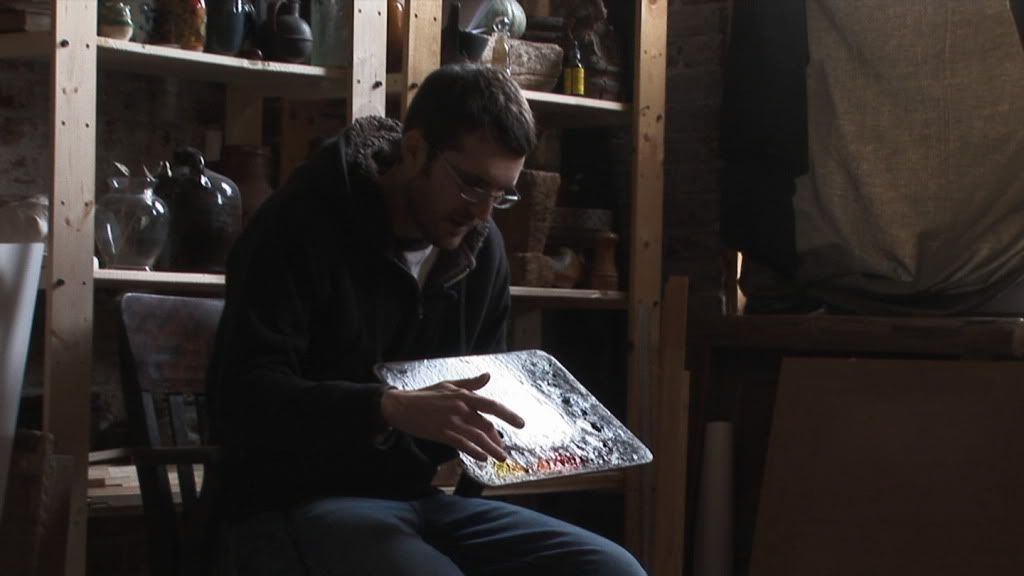 Carlo Russo explaining his palette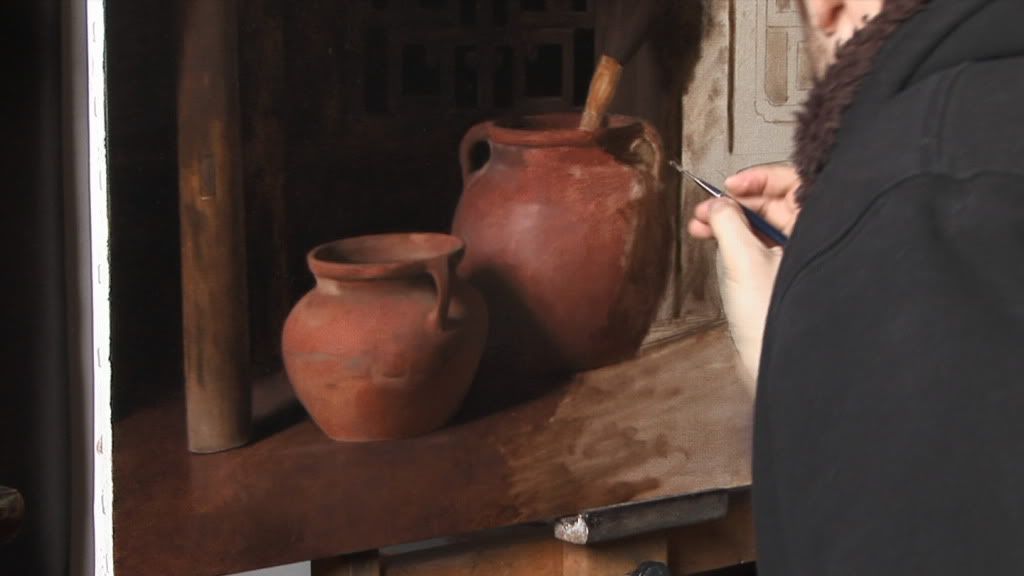 Carlo Russo working on still life
------------------------------------------------------------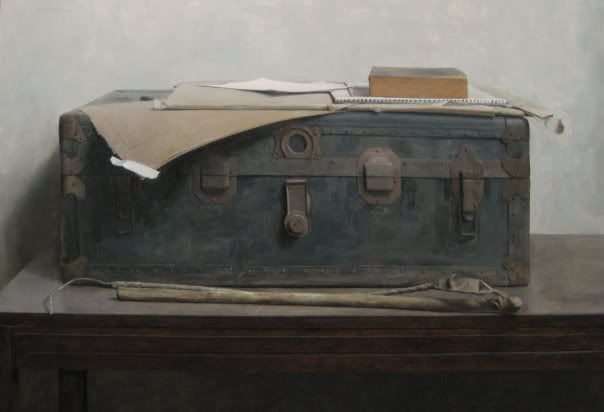 The Craft