If you were able to read the recent article on
Brad Kunkle
in the April 2010 issue of
American Art Collector
, then you saw the excellent break-down of the artist's method of creating his gilded and oil painted piece
Revelen
. On my recent trip to
Arcadia Gallery
, I was fortunate to be gifted with images from a second step-by-step by the artist which was not included in the magazine article. I will do my best to interpret Kunkle's process, but even if I fall short of fully describing his methods, I hope I can still express the type of planning and effort that goes into each of his works.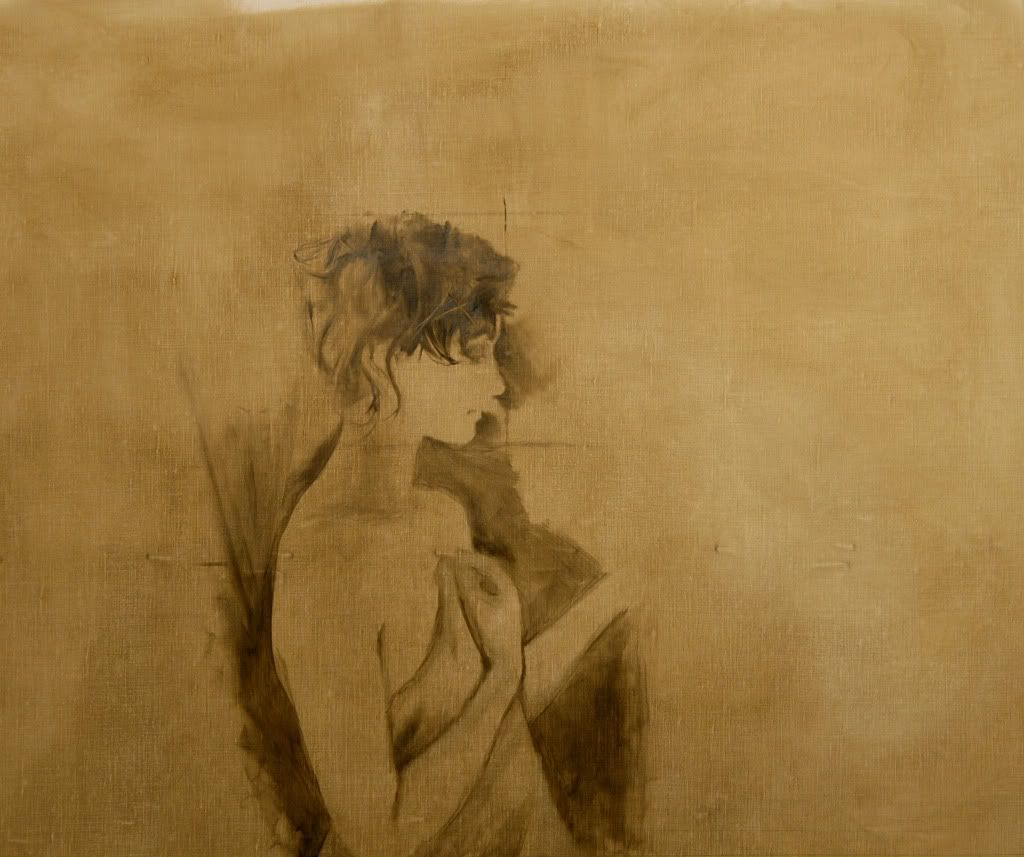 Kunkle prepares his own canvases with several applications of oil primer, applied with a knife, and sanded between layers. He then tones the canvas with a mixture of ivory black and raw umber which he rubs onto the surface with a cloth. After this dries, he begins a monochrome underpainting of the figure.
Kunkle continues building up the darks, leaving the tone of the canvas as the lights on the figure.
After applying an adhesive, Kunkle begins laying in the silver leaf.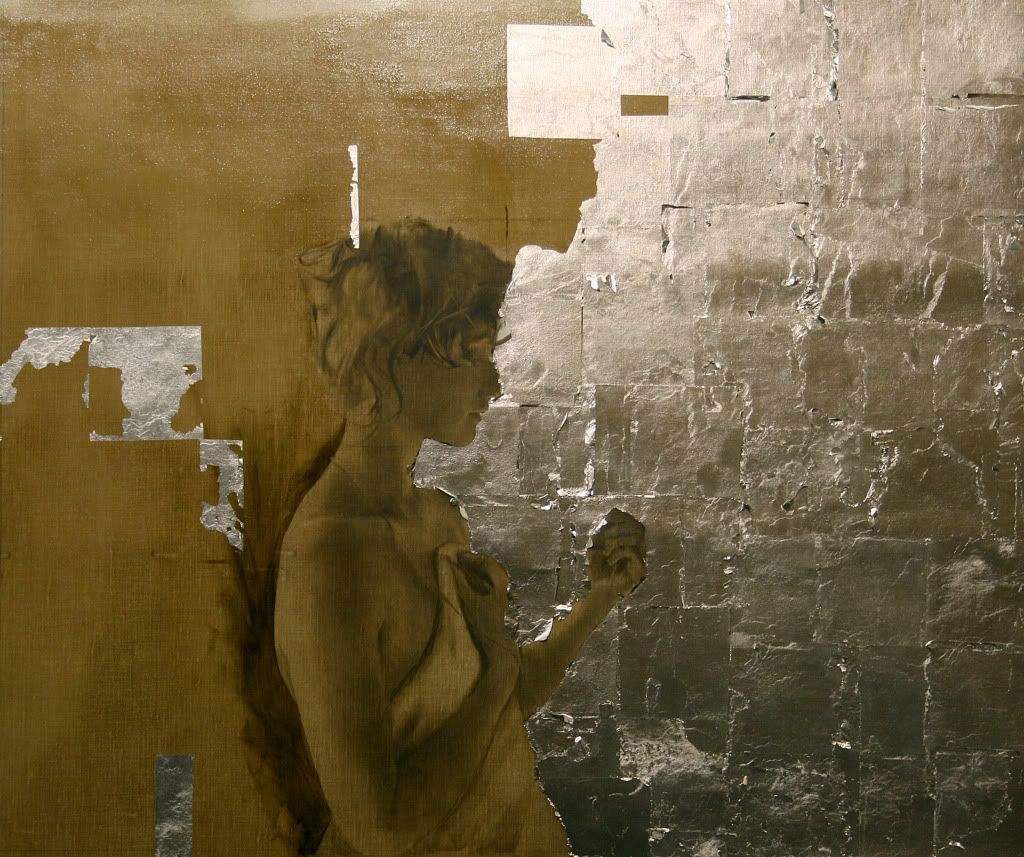 Kunkle continues gilding the picture, manipulating the leaf where it meets the figure using etching tools and other sharp metal objects.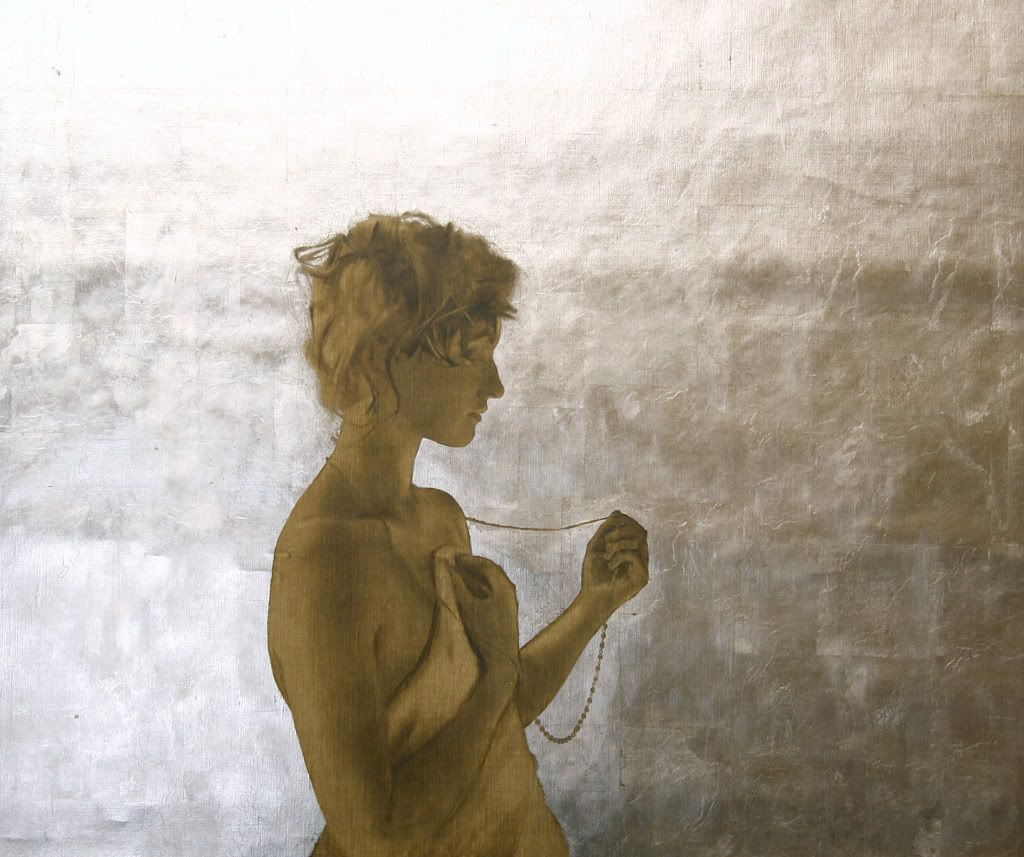 Using a soft chisel brush, Kunkle works in a circular pattern, pressing the leaf into the weave of the canvas, and removing any of the loose, overlapping layers of foil. When this is done, he shellacs the painting to protect the silver from tarnishing, and to create a surface which will accept oil paint.
Working on an overlay of tracing paper, the artist plans out the position of the serpents which appear in the final painting.
Kunkle then adds the serpents using genuine metallic gold leaf.
Using tracing paper again, Kunkle plans out the decorative, organic background.
Kunkle paints the design using titanium white.
The main figure is refined using a limited palette.
The finished painting: Girl with Serpent and Pearls, oil, gold, and silver on canvas mounted on wood panel, 25"x30".
This painting is part of Kunkle's solo show, Against Nature, opening April 22 at Arcadia Gallery in SoHo.