Nature is economical. She puts her lights and darks only where she needs them. Don't try to be more skillful than she is!
You are to draw not reality, but the appearance of reality!
... It's no easy matter to paint a background. I venture to say that the old painters had more difficulty with their grounds than with their figures. You know the story of Vandyke brought to Rubens with this recommendation: "He already knows how to paint a background." "That is more than I can do!" was the reply.
There is force and vitality in a first sketch from life which the after-work rarely has... In your sketches keep the first vivid impression! Add no details that shall weaken it! Look first for the big things! 1st. Proportions! 2d. Values- or masses of light and shade. 3d. Details that will not spoil the beginnings!
Strive for simplicity! Don't have the face a checkerboard of tints! Use such colors as nature uses, but not try to keep them distinct! Your work may be called monotonous; but one tone is better than many which do not harmonize.
Don't talk of what you are "going to do!" Do it!
Give up the idea of "color" for awhile! Consider masses- values, only.
One dark and one light place in every picture.
Elaboration is not beauty, and sand-paper never finished a piece of bad work.
Compare constantly, lines and angles, now you have the idea of values. Hold looking-glass before your model and your drawing. Take a second's glance only, and see if the impression be the same. If it be not, ask "What is the difference?" Reflect as well as work! Get a system of working!
Children should learn to draw as they learn to write, and such a mystery should not be made of it. They should be encouraged, not flattered. As it is, every child shows some disposition to draw early- marking on doors, tables, books, "whole sheets of paper"- "which must not be wasted," while the parents, who would save that paper, write the most vapid nonsense. With no help and encouragement, the child gradually loses its desire to draw; gets interested in other things, until the wish to draw again breaks out, and then double the effort is required to get the facility which might have been gained insensibly.
When values are so nearly alike that it is difficult to distinguish them, make them alike, and thus learn to simplify your masses.
Imagination comes in after we have experience.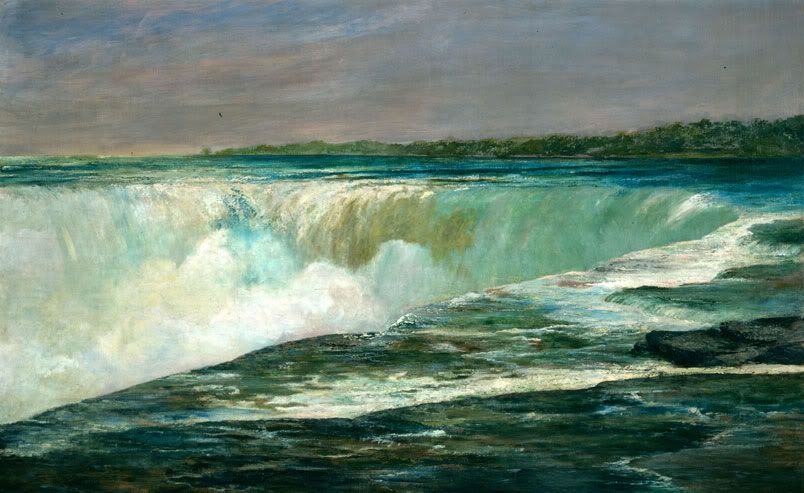 Inspiration is nothing without work.
Follow your own individual taste, and somebody will appreciate it.
When I was a little boy I wanted to learn the violin, but a certain man discouraged me. "Don't learn the violin! It's so hard!" I could kick that man now! It is easier to eat dip-toast than to play the violin; but it doesn't meet the same want.
If we could only work simply! If a bit of canvas uncovered has a better effect than it would if paint were on it; if something half done looks better than anything finished; in a word, if the Lord helps us in that way, let us say, "Much obliged!" and take the help; and not, because WE did not do it, think that we must work over that spot and so spoil it.
If you could see me dig and groan, rub it out and start again, hate myself, and feel dreadfully! The people who "do things easily!" Their things you look at easily, and give away easily!"
Ignore what nature ignores.
Work as long as you know what to do! Not an instant longer!
Nothing remains of a nation but its poetry, painting, sculpture, and architecture.
Think all that you can! Put in as little hand-work as possible, and as much intelligence. Permit yourself the luxury of doing it the simplest way!
Paint for fun! I don't care whether it succeeds or not! Let success come long afterwards!
Painting is appreciation of the form, character, and color of the thing. Not oil or varnishes.
Be carefully careless!