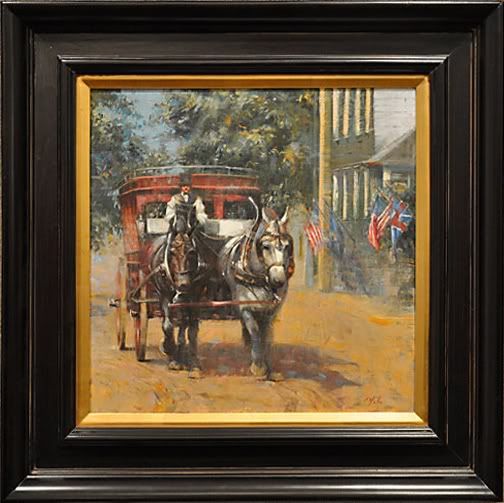 Congratulations to Elizabeth Pollie for her Best in Show Award for Grand Promenade.
This past Friday evening, the
Salmagundi Club
in New York City held the reception for their
33rd Annual Juried Painting and Sculpture Exhibition for Non-Members
. It was a great turnout, and I always have a lot of fun visiting the club's historic brownstone. Congratulations to all who participated!
PAINTING
1. Best in Show Award - Elizabeth Pollie
2. Joseph Hartley Memorial award for OIL - Max Ginsburg
3. Thomas Moran Memorial Award for WATERCOLOR - Ken C. Hamilton
4. George Inness, Jr. Memorial Award for PASTEL - Barbara Groff
5. VASARI Classic Artist's Oil Colors Gift Certificate Award for an Exceptional Work in OIL - Joel Carson Jones
6. National Society of Painters in Casein & Acrylic, Inc. Award - Jim Potterton
7. Jack Richeson & Co. Inc. Material Award - Nicole Moné
8. Pastel Society of America Award - Roxanne Weidele
9. Allied Artists of America Award - Henry Buerckholtz
10. American Artists' Professional League Award - Sol Korby
11. Dale Meyers Medal Award for a Watercolor - Dean Mitchell
12. Audubon Artists Award - Alexandra K. Wisnoski
13. Washington Square Outdoor Art Exhibit Award - Luis De Mena
14. Winsor & Newton Material Award - John S. Richter
15. Connecticut Pastel Society Award - Sangita Phadke
16. Gamblin Artists Colors Co. Art Material Award - John Grieco
17. Catherine Lorillard Wolfe Art Club Award - Mervyn Vowles
18. Ridgewood Art Institute Award - Dora Atwater Millikin
19. The Katlan Family Seascape Award - Nancy Davis
20. ART TIMES Award - Jack Brown
21. The President's Award - Matthew W. Cutter
22. Certificate of Merit for OIL - Jill Banks
23. Certificate of Merit for WATERCOLOR - Jinnie May
24. Certificate of Merit for PASTEL - Rita Agron
SCULPTURE
1. Joseph Hartley Memorial Award - Arthur Bernstein
2. Olivia Olsson Memorial Award - Freya Gervasi
3. Salmagundi Club Award - Debra Friedkin
4. Certificate of Merit for Sculpture - Arlene Fins