Robert Hale Ives Gammell (1893-1981) was an American painter, muralist, teacher, and author, who was very outspoken in his condemnation of the Modernist art movements. In the United States, he was a student of William McGregor Paxton (who in turn was a student of Jean-Léon Gérôme), as well Edmund Tarbell, Joseph DeCamp, and Philip Hale. In France, he studied at the Académie Julian and the Atelier Baschet. Gammell's unique position as one of the last Americans to receive classical training in the early twentieth century, and of being, by birth, free from financial worries, allowed him to pursue the type of art he loved, despite personal and professional criticism.¹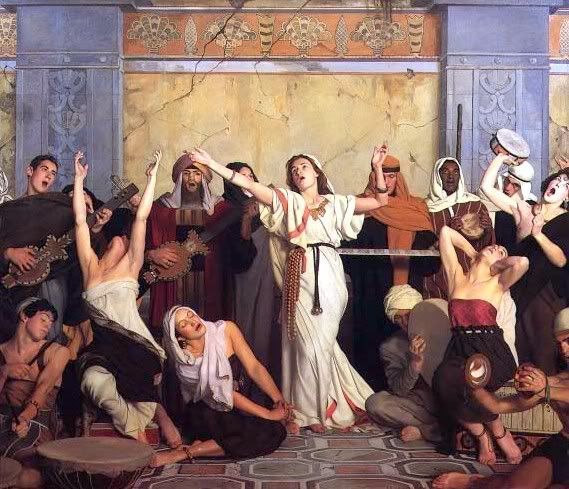 R.H. Ives Gammell, Song of Lamentation, 1938
With the 1946 publication of his book,
Twilight of Painting
, in which he defended classical methods of art making and attacked the "clumsily applied daubs of paint" which he felt characterized the emerging art schools of the time², Gammell began to attract serious students, including Richard Lack, Robert Douglas Hunter, and Robert Cormier. In the thirty-five years in which he actively taught, nearly eighty students received training from R.H. Ives Gammell, many of whom have continued to keep alive the art of painting he feared would be lost.³
Jean-Léon Gérôme, Greek Slave, 1870


This unfinished painting and the one...

[below]

point the contrast between the academic and impressionist approach. Gérôme proceeded from a firmly established outline and his interest was concentrated on the figure itself from the start, though the carefully worked-out perspective indicates that he had the rest of his picture planned and possibly sketched in a separate study.

William McGregor Paxton, Nude, 1915
Paxton, on the other hand, made his composition by moving the model and the furniture about the room until they formed the balanced design he wanted. In starting the picture he laid in the broader areas of color as they appeared to his eye without particular regard to what these areas represented, gradually adding detail and refining shapes. Carried to their ultimate limits by very competent painters the two methods could lead to quite similar results.⁴
¹R.H. Ives Gammell,
Twilight of Painting
, (Parnassus Imprints, Orleans, MA, 1990), p 7.
²ibid., back cover.
³ibid., pp. 7-8.
⁴ibid., pp. 181-182.
Reprints of Gammell's book,
Twilight of Painting
, can sometimes still be found at
The Atelier Bookstore
. Otherwise, copies of the original and the reprint can still be found through used book venues such as
Amazon
,
Bookfinder
,
AbeBooks
, etc..
----------------------------------------