Ramon Casas i Carbó (1866-1932)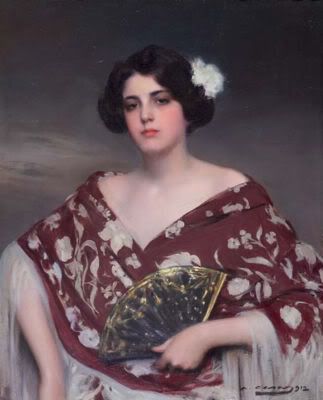 It never fails, that once I put up a post filled with images I labored to find, a month passes, and I find a painting which I wished I had included in the original article. Such was the case with
Random Inspiration: Ramon Casas i Carbó (1866-1932)
; not long after I published the story, a great painting by Casas showed up at auction. I had hoped that it was the first of many more works coming to surface on the internet, and though I have found several other works by Casas in the past year, that first one was the best by far. I've decided to share it here.
------------------------------------------------------------
Albert Herter (1871-1950)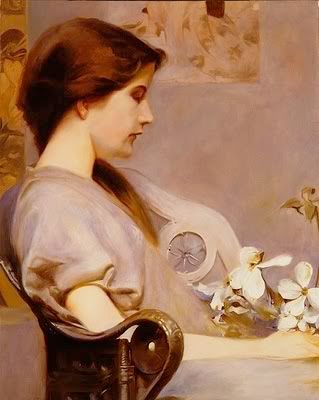 There have been several times where I have put up a post, and I have later received messages from people who were in some way connected to the article I wrote. When I put up the post on
Albert Herter
in September of 2009, I received word from a gentleman whose family once owned the Herter estate,
El Mirasol
, in California. He is the same person responsible for the
HerterArt
website, and was kind enough to provide a link back to my blog. As a child at
El Mirasol
, this gentleman was amazed to see Albert's mastery of so many different mediums, and the site he has developed to honor the Herter family's artistic talents is a fascinating read, and a testament to how strongly aesthetic beauty can impact a child's life.
------------------------------------------------------------


Charles Courtney Curran (1861-1942)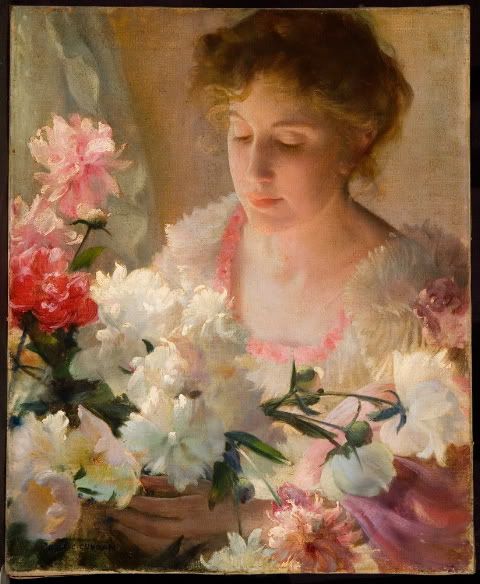 After putting up the post on Charles Courtney Curran, I was not surprised to hear from some of the artist's relatives. I knew the family members were out there, and that they possessed some of Curran's originals; one of the images in the post had appeared earlier in 2009 on the
Antiques Roadshow
, when one of Curran's grandchildren was looking for more information on the artist.
I was surprised, however, to hear from someone at
Ball State University's Museum of Art
regarding Charles Curran. The museum's director, Peter Blume, and his assistant, Carl Schafer, had undertaken a grant to enable the university to digitize the 11,000 works in their collection, and the photographer they employed, Steve Talley, contacted me to let me know that he had just pulled a Curran painting out of storage and had photographed it for the
DIDO Project
(Digital Images Delivered Online).
The painting is back on display and has become popular amongst the employees and student guards. It was also used on the University's Museum Alliance handbook last year, to the surprise of many, who were unaware the museum possessed the work.
Also regarding Charles Courtney Curran- Fine art and antique dealer Kaycee Benton is currently preparing the
catalog raisonné
on the artist, and is seeking any and all information on him. I look forward to the volume's completion.
------------------------------------------------------------
Elizabeth Sparhawk-Jones (1885-1968)
During one of my trips to visit the Putney Painters in Vermont, the members, while sitting at their easels, were discussing brush handling in various works of art when someone brought up the painting,
The Shoe Shop
, at
The Art Institute of Chicago
. Suddenly, Richard Schmid turned to me and said, "That's who you should write about on your blog- Elizabeth Sparhawk-Jones!" So, given that charge, I set out to learn more about Sparhawk-Jones, of whom I knew next to nothing.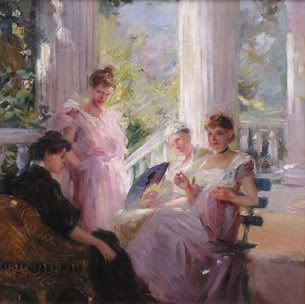 Sadly, in researching Sparhawk-Jones online, I found there was really very little interest in the artist, and therefore, very little about her to be found. The one exception to this was the site developed by writer
Barbara Lehman Smith
, who was, at the time, compiling a book about Sparhawk-Jones. Smith had been the accidental recipient of three boxes of private papers belonging to the deceased artist, and this serendipitous event compelled the author to write about the artist's tumultuous life.
------------------------------------------------------------



New Book From Dorian Vallejo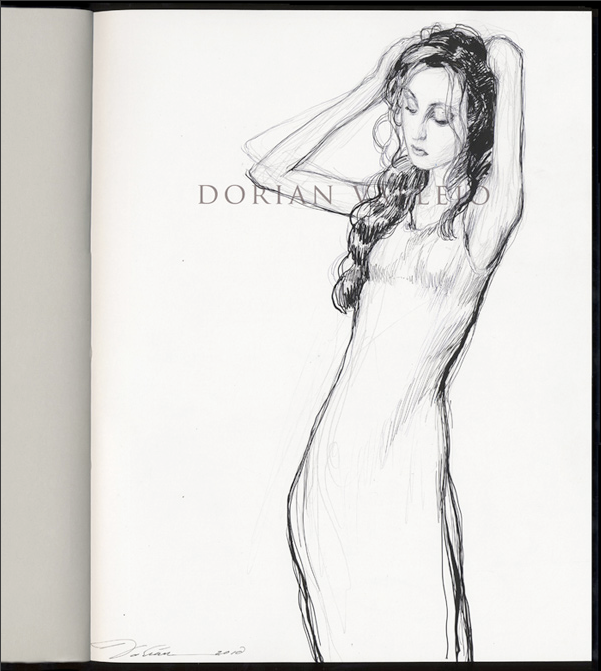 Since putting up the
post
about Dorian Vallejo's recently published book of drawings, Dorian has added a gallery to his site featuring original works he has created for the Collector's Editions of
Drawings: Inspired by Life
. The online gallery can be seen by following the links on Dorian's
website
.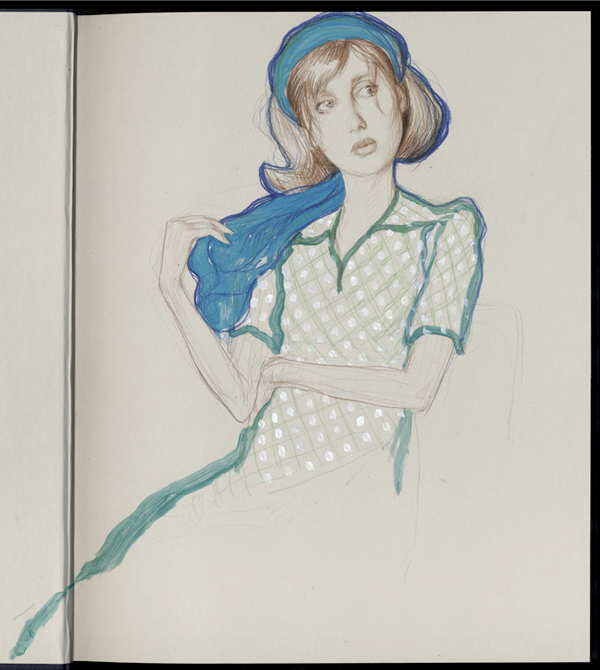 ------------------------------------------------------------
Artist
Ryan S. Brown
, a finalist at this year's
Portrait Society of America's Annual International Competition
, was one of the artists whom I listed in my regular section,
What's on View
. Ryan's 2010 solo show held at
Astoria Fine Art
in Jackson Hole, Wyoming was a success, and the artist shared a video of his opening night on YouTube.
------------------------------------------------------------
The Marquardt Beauty Analysis Mask
I did several posts in the past using the Beauty Masks developed by
Dr. Stephen R. Marquardt
in his attempts to find an objective manner in which to measure the human perception of facial beauty. My research into applying Marquardt's masks to art was, for me, an interesting diversion begun nearly ten years ago, after seeing Marquardt and his theories on the BBC mini-series
The Human Face
, hosted by John Cleese and Elizabeth Hurley. When I decided to do a series of articles on the construction of the human head based on ideal proportions, the MBA mask was the first subject that came to my mind.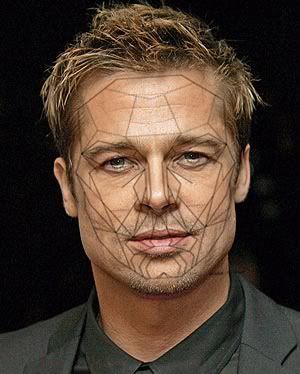 Original image plotted using the female mask. Pitt's features fill it well enough, with the exception of his more pronounced jawline, a desirable trait in males.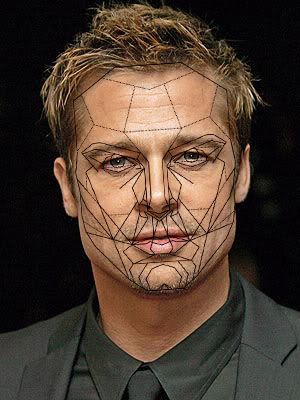 The updated image plotted using the male mask. Although this fits Pitt's jawline and face width better, it does not align as well with his nose and mouth as did the female mask.
When the
Marquardt Beauty Analysis site
makes claims that they are doing further research, and updating their mathematical measurements to create more specific gauges for beauty, they are not joking. I first visited the MBA site years ago, and when I did, there were no separate masks for smiling females, nor for males in repose. I think MBA has even added new editions to their site since my original post on the subject.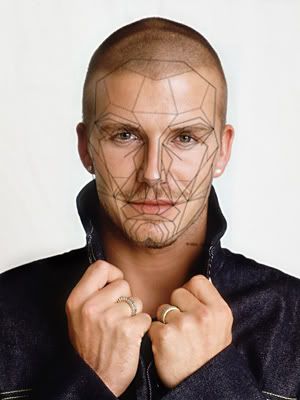 Beckham plotted using the female mask. The athlete's features fit the mask extremely well, better than many female celebrities.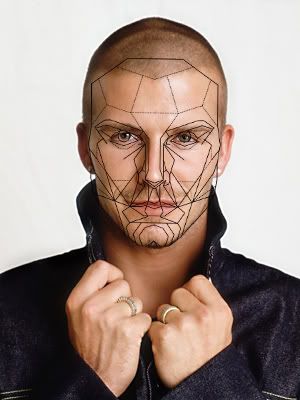 Beckham plotted using the male mask. The female mask provides a better fit, which perhaps indicates an ideal beauty, rather than a male beauty.
Sadly, when I created my two articles on the Beauty Masks, I did not update my personal research into developments made at the MBA Center. I had only gotten as far as learning they had charted objective measurements for smiling females, when I stopped updating my earlier investigation, and relied upon the notes and downloads I had made many years ago. What this meant for the illustrations I used in my posts were that the exemplars of men measured using the "universal" Beauty Mask were no longer accurate- I should have used the more recently created Male Beauty Mask.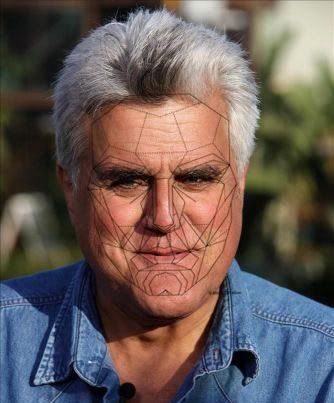 The original plotting of Jay Leno using the female mask indicates that the star has a pronounced chin, a trait for which he is well known.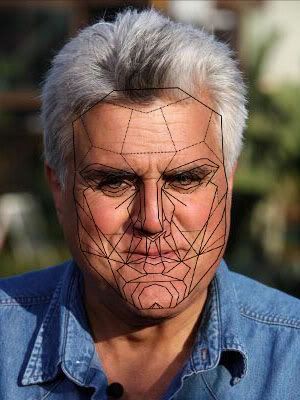 The updated plotting using the male mask matches Leno's eyes and jawline better, but suggests that his nose and philtrum are short for his head-size.
Using the Male Mask, I have finally re-plotted the faces of the male celebrities I had shown in my previous posts, and have included them here along with their earlier, female counterparts. The original articles can be seen here:
------------------------------------------------------------