"I wanted to bring to my community a tangible connection with the creative process. By making them the subject, I hoped that their interest would be stirred and that they would be touched somehow by what painting can reveal about the human experience." ~ Rose Frantzen on her exhibit, Portrait of Maquoketa.
Portrait of Maquoketa - The Dimensional View
Between July, 2005, and July, 2006, Iowa native
Rose Frantzen
invited anyone from her hometown of Maquoketa to step inside her Main Street studio and volunteer to have their portrait painted from life. "I wanted to paint my neighbors and fellow Maquoketans without any selection or choice on my part, attempting to capture a direct portrayal of the people around me," said Frantzen. "Together, we could democratize portraiture, allowing anyone to be painted just by showing up and participating." The resulting one-hundred-eighty 12" X 12"
alla prima
portraits were grouped together to form
Portrait of Maquoketa
, an exhibition which enjoyed a prestigious eight month showing at the Smithsonian's National Portrait Gallery in Washington, D.C., during the 2009/2010 season.
Anyone who has ever lived in a town where farming is a major aspect of daily life understands how much the community is tied to their environment. The land shapes them as much as they shape the land. Frantzen has always understood this, and has always envisioned the portrait of her town to be greater than a series of individual pictures of townspeople. "Although Portrait of Maquoketa has gone places I never imagined," says Frantzen, "I have felt from the start a desire to set the portrait of the town into a larger framework, namely the landscape - showing this community nestled within the Iowan countryside."
When the opportunity to show
Portrait of Maquoketa
in the large third floor gallery of the Figge Art Museum in Davenport, Iowa, was presented to Frantzen, she finally had the venue that would allow her to bring her initial vision to fruition. Conceived and designed in collaboration between Frantzen and her husband, artist
Charles Morris
,
Portrait of Maquoketa - The Dimensional View
allows museum-goers to become part of Frantzen's town - to "visit" a multi-dimensional, multi-sensory artistic interpretation of Maquoketa.
Portrait of Maquoketa - The Dimensional View consists of a 315 square foot painted landscape depicting the town as seen from a nearby hill, which was then broken into 34 vertical panels suspended from the ceiling. The reverse side of the panels serve as frames for the 180 portraits painted by Frantzen between 2005 and 2006. The display is 30 feet deep, and as visitors walk within the stand of panels, then can hear an audio track composed by Frantzen's brother, John Frantzen, featuring original music and taped conversations of the portrait subjects discussing their lives and their town. From one specific vantage point across the room, the panels, which range in height from three-and-a-half feet to ten feet tall, visually merge to create a single image of Frantzen's original landscape design. At this viewing position is a secondary audio track by John Frantzen, this one featuring music and the sounds of nature.
Much like the living, breathing community which provided the impetus this project, Portrait of Maquoketa has continued to evolve. It will be interesting to see if Frantzen continues to expand this exhibit in new ways over the next few years, or if this is its final progression. What is certain, is, for someone who loves life as much as Rose Frantzen does, her modest hometown will never cease providing her with inspiration.
Portrait of Maquoketa - The Dimensional View is on exhibit now through January 20th, 2013 at the Figge Art Museum, 225 W. 2nd Street, Davenport, Iowa. The Museum is open from 10 am -5 pm, Tuesday through Saturday, 10 am - 9 pm Thursdays, and 12 - 5 pm Sundays. Admission is $7 for adults, $6 for seniors and students with ID, and $4 for children ages 3-12. For more information, contact Charles Morris at (563) 321-0727 (afternoons and evenings only).
Frantzen's plein air color study
Inking the underpainting
Configuring the alignment of the panels
Painting the panels
Rose within the panels
Hanging Portrait of Maquoketa - The Dimensional View
The portrait side of the panels - the people of Maquoketa
A side-view of the installation; the viewing chair can be seen on the right.
The landscape as seen from the viewing chair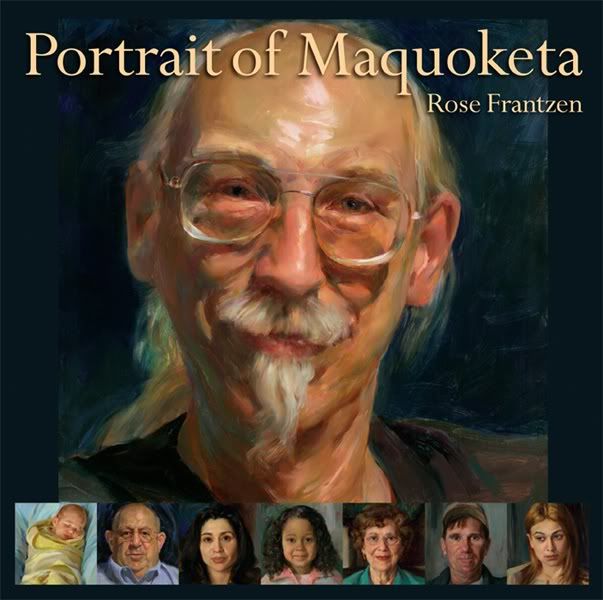 Frantzen's book
Portrait of Maquoketa
, which chronicles the year-long process of creating the 180 portrait paintings of her fellow-townspeople, is still available for sale through
Old City Hall Press
.